Psychologists DUI in Los Angeles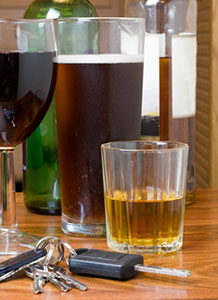 A DUI conviction can trigger a variety of collateral consequences for professionals who are required to carry licenses with the State of California. Psychologists are required to maintain good standing with the California Board of Psychology ("BOP") and in certain cases a conviction for driving under the influence can lead to serious repercussions. Consequences may include being placed on administrative probation, suspension of one's ability to practice and termination or revocation of one's professional license.
The arrest information for any psychologist who is arrested for DUI will automatically be forwarded to the BOP once the arrestee's fingerprints are scanned. The Board does not require that licensee's self-report arrests or convictions, however those who are applying for a license or who are renewing their license would be required to disclose any conviction to the BOP. Failure to disclose this information on an application can be seen as an aggravating factor and could lead to applications or renewals being denied. Under the Business and Professions Code, the BOP has discretion to deny a license to practice psychology based on someone's criminal history.
Deny a License to Practice Psychology
Even if the applicant has expunged his or her DUI conviction with a successful motion pursuant to California Penal Code Section 1203.4 PC, the conviction can still cause problems for any person applying for or renewing his or her license to practice psychology. The BOP requires that expunged convictions be disclosed at the time of application and failure to so will be considered an act of dishonesty that can carry its own set of repercussions.
BOP Institutes Disciplinary Actions
The BOP can institute disciplinary action against its members or applicants who have been convicted of driving under the influence. The BOP typically includes a rehabilitation element and will take into account the underlying circumstances of the criminal violation. The Board will consider factors such as whether there was an accident involved, what the licensee's blood alcohol content was at the time of driving and if there was a hit and run allegation when deciding what level of discipline is appropriate. Because the Board values the efforts its members make towards rehabilitation, community service or completion of a drug and alcohol program may be introduced as mitigating factors and could potentially result in a reduction of the penalties assessed by the BOP.
Any professional who is licensed by the BOP is entitled to an administrative hearing to contest any disciplinary action taken against his or her license. The licensee would also have a right to appeal the result of the hearing.
Being convicted criminally of a DUI offense can also carry a number of unforeseen consequences for professional psychologists. The conviction would become part of the defendant's criminal record and anyone conducting a background check would be able to see the DUI conviction. This could pose a problem for those applying for jobs in the psychological field.
Someone who has been convicted of a DUI would also be expected to adhere to the various requirements set forth as part of his or her sentence. This can include a lengthy probationary period in which the defendant may have to complete a jail sentence, attend a mandatory drug and alcohol education class, pay expensive court fines, pay restitution to any victim and attend any other programming that the court feels would be appropriate. The defendant would lose his or her driving privileges as a result of the court conviction and in Los Angeles County would be required to have an Ignition Interlock Device installed into her or her vehicle.
The California Department of Motor Vehicles would also take action against the defendant's driving privileges as soon as he or she is arrested. Unless the driver requests an administrative hearing, his or her driving privileges will be automatically suspended for a period of at least four months.
Contact a Professionals DUI Attorney Now
If you are a licensed psychologist or will be applying for a license to practice psychology, it is critical that you consult with a Los Angeles DUI Attorney as soon as possible. As a former Deputy District Attorney with over 14 years of prosecutorial experience, Attorney Michael Kraut understands the unique circumstances that psychologists and other professionals face and works hard to ensure their lives and livelihoods are not disrupted as the result of a DUI incident.
For more information about Los Angeles DUI and Psychologists, and to schedule your free consultation, contact Michael Kraut at the Kraut Law Group located at 6255 Sunset Boulevard, Suite 1480, Los Angeles, CA 90028. Mr. Kraut can be reached 24/7 at 888-334-6344 or 323-464-6453.
Client Reviews
He gave me the peace of mind that my DUI case was going to be resolved. He fought for what it was needed and helped me by answering all my questions. Mike is not an average attorney. He's a very experienced, honest and straightforward person that is there for you!
I hired Attorney Mike Kraut and I'm am so happy and grateful that I did! I was arrested for a DUI because my BAC level was over the .08 limit. I ended up getting a wet and reckless instead of a DUI. I still have to do some classes and I'm on probation, but I do not have a DUI on my record. If you have a DUI hire Attorney Kraut, he definitely knows his stuff!
There aren't enough positive words to write about Mike, but let me be clear that this is the only lawyer worth hiring in Los Angeles. Mike is professional, caring, and an absolute champion at winning in court.
Mike Kraut is not a typical lawyer. He is a straightforward person with a true heart and a sympathetic ear. He is also smart and connected and he cares about the people who seek out his help. He got my son out of a jam. He did it quickly and painlessly. I recommend Mike Kraut to anyone that needs his services.
Thank you Mike for helping my son.
Michael Kraut is a rock star lawyer. I was really happy and satisfied with the results I received from Michael and his team. A few months back I was being accused of a serious felony. Mike gave me sound legal advice and worked diligently to clear my name. Mike was great at always keeping me updated and returning calls. Great, great lawyer I cant say enough about this man!
How can I express how relieved and pleased I am with Michael's professional abilities to have my Felony brought down to a misdameanor to a possible dismissal with deferment. With his care my life has been turned around and cannot say how helpful he's been not only in my case but life. He, himself has changed how I view criminal lawyers. Thank you so much Michael!