Los Angeles DUI Education Classes
Los Angeles DUI Attorney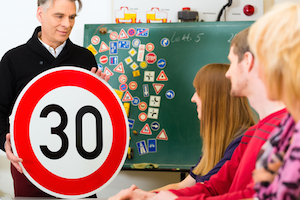 For anyone convicted of a Los Angeles DUI offense or a LA wet reckless, a condition of probation that is required under the law involves mandatory completion of a DUI education class. In addition, the California DMV will also require completion of an education program before an alcohol-related driver's license suspension can be lifted.
The Courts and legislature have concluded that it is very important that those convicted of DUI offenses receive education to prevent future impaired driving activities. Failure to complete a class will result in bench warrants being issued, probation violations and will keep the driver from getting his or her license reinstated. Depending on the specific circumstances of the Los Angeles DUI offense, one of the following alcohol education classes may be required:
The 12-hour program (SB 1176)
The 3-month program (AB 541)
The 6-month program (AB 762)
The 9-month program (AB 1353)
The 18-month program (SB 38)
The 30-month program (SB 1365)
The SB 1176 is a 12 hour program that is often available to those convicted of wet reckless or exhibition of speed offenses or some DUI offenses involving low BACs. The SB 1176 involves six weekly classes that are each 2 hours longs. The SB 1176, like all of the other alcohol education classes discussed here, must be conducted by a provider that has been authorized by the state. While the Bb 1176 may satisfy the requirements of certain court convictions, this class would not satisfy the DMV's alcohol education requirement and a longer class would be necessary.
The AB 541 is the 3-month program that is typically assigned for most first-time DUI offenses where there is not an excessively high blood alcohol content. The AB 541 class is a very popular course and is offered throughout Los Angeles and neighboring counties. The AB 541 is also required by the Department of Motor Vehicles and a driver must at least enroll in the class in order to get restricted driving privileges. The AB 541 involves an initial intake session, 12 classroom hours, 18 hours of group counseling and three one-on-one counseling sessions. The class typically meets once a week for three months.
The AB 762, also known as the 6-month class, is not as widely offered as the AB 541 and not as prevalent in court. Typically it can be assigned to first time DUI offenders who had a BAC in excess of .15 or had other aggravating circumstances. The 6-month class involves group classes, group counseling and individual counseling sessions and requires the attendance of 24 AA sessions.
The 9-month class (AB 1353) is typically required for first time DUI offenders who had excessively high BACs that are .18 or higher. This 9-month class involves 12 classroom hours, 44 hours of group counseling sessions, 4 hours of individual counseling and 36 required AA meetings.
For drivers who have been convicted of a second DUI offense in Los Angeles, they usually have to attend the 18-month alcohol program, also known as the SB 38. The 18-month program features 12 hours of classroom instruction, 52 hours of group counseling, 6 hours of monitoring, and interviews every other week during the first 12 months.
The 30 month class is usually required for a driver's third DUI offense and is also called the SB 1365 program. Los Angeles County is one of the few counties that offers the SB 1365. Someone attending this class would be required to complete 12 hours of alcohol and drug education classes, 78 hours of counseling, up to 300 hours of community service and regular monitoring interviews.
Each class allows attendees to miss a certain number of sessions, however if a student misses too many they can be kicked out of the program and may face additional penalties in court. For drivers located outside of California, the sentencing judge may allow them to take a similar class in their home state or complete an online California alcohol education program.
If you have been charged with a Los Angeles Driving Under the Influence offense, it is critical that you meet with a LA DUI Lawyer as soon as possible. Los Angeles DUI Attorney Michael Kraut is a former Deputy District Attorney with over 14 years of prosecutorial experience who knows all about the various alcohol education requirements and works hard to make sure his clients receive the best representation possible.
For more information about Los Angeles DUI education classes, and to schedule your free consultation, contact Michael Kraut at the Kraut Criminal & DUI Lawyers located at 6255 Sunset Boulevard, Suite 1520, Los Angeles, CA 90028. Mr. Kraut can be reached 24/7 at 888-334-6344 or 323-464-6453.