Los Angeles DUI And Commercial Driver's Licenses
Los Angeles DUI And Commercial Driver's Licenses
There are special provisions in California State and Federal law that deal with people with commercial driver's licenses who are convicted of DUI. If you are a truck driver or otherwise need a commercial driver's license for your job and you have been charged with DUI, there are several matters you have to take into consideration.
California Vehicle Code 23152(a) prohibits driving under the influence of alcohol and/or drugs. California Vehicle Code 23152(b) makes it illegal to drive with a blood-alcohol level of 0.08 percent or more. These laws apply to all drivers in California, regardless of what type of license they carry.
Vehicle Code 23152(d) prohibits commercial license drivers from driving a commercial vehicle with a blood alcohol concentration of 0.04 percent or higher. A commercial driver license is a license that permits someone to drive and operate various classes of commercial vehicles. Class A and Class B driver's licenses allow the operation of commercial vehicles and Class C permits the carrying of hazardous material.
A prosecutor must prove Los Angeles Driving Under the Influence of Alcohol charges against a commercial driver just as he or she would have to against any other driver. District attorneys generally rely on the testimony of the arresting officers or any other witnesses that may have been present, the results of a chemical DUI breath or blood test, and records from the DMV showing that that the person charged holds a commercial driver's license.
It is important to remember that commercial drivers are held to a higher standard than the rest us. While the court penalties for commercial drivers convicted of DUI in Los Angeles are generally the same as those assessed to regular DUI drivers, a commercial driver's license holder faces severe consequences as a result of a DUI conviction. Unlike regular drivers who can typically apply for a "restricted" license after 30 days have passed on their driver's license suspension which allows them to drive to and from their job, commercial drivers are not eligible for a "restricted" commercial license. A commercial driver convicted of any first-time DUI will lose his or her commercial license for a year. A second DUI conviction will trigger a lifetime suspension of a person's commercial driving privileges.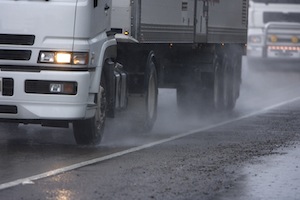 Because of the severe potential consequences facing commercial drivers charged with DUI, it is imperative to have an experienced, aggressive attorney on your side. Attorney Michael Kraut was a deputy district attorney for over 14 years who realizes how devastating a DUI conviction can be for a commercial driver. Mr. Kraut will aggressively defend your case and leave no stone unturned to ensure you have the best defense possible. Contact an experienced Los Angeles DUI attorney today to set up a free consultation 24/7 at (323) 464-6453.
DUI Process & Law
DUI Crime & Evidence
Court & DMV License Suspension / Resources
Client Reviews
He gave me the peace of mind that my DUI case was going to be resolved. He fought for what it was needed and helped me by answering all my questions. Mike is not an average attorney. He's a very experienced, honest and straightforward person that is there for you!
I hired Attorney Mike Kraut and I'm am so happy and grateful that I did! I was arrested for a DUI because my BAC level was over the .08 limit. I ended up getting a wet and reckless instead of a DUI. I still have to do some classes and I'm on probation, but I do not have a DUI on my record. If you have a DUI hire Attorney Kraut, he definitely knows his stuff!
There aren't enough positive words to write about Mike, but let me be clear that this is the only lawyer worth hiring in Los Angeles. Mike is professional, caring, and an absolute champion at winning in court.
Mike Kraut is not a typical lawyer. He is a straightforward person with a true heart and a sympathetic ear. He is also smart and connected and he cares about the people who seek out his help. He got my son out of a jam. He did it quickly and painlessly. I recommend Mike Kraut to anyone that needs his services.
Thank you Mike for helping my son.
Michael Kraut is a rock star lawyer. I was really happy and satisfied with the results I received from Michael and his team. A few months back I was being accused of a serious felony. Mike gave me sound legal advice and worked diligently to clear my name. Mike was great at always keeping me updated and returning calls. Great, great lawyer I cant say enough about this man!
How can I express how relieved and pleased I am with Michael's professional abilities to have my Felony brought down to a misdameanor to a possible dismissal with deferment. With his care my life has been turned around and cannot say how helpful he's been not only in my case but life. He, himself has changed how I view criminal lawyers. Thank you so much Michael!