DUI Probation Violations
California DUI Probation Violations
In most California DUI convictions under California Vehicle Code 23152(a), and California Vehicle Code 23152(b), criminal defendants are sentenced to probation. California DUI probation allows defendants to avoid maximum punishment if they successfully abide by, and complete specific terms, as dictated by the court during sentencing. Failure to comply with any court order will typically result in a probation violation.
The terms of a California DUI sentence will vary depending on a wide variety of factors: the court, the judge, the level of intoxication, the age of the defendant, and the driving conduct, whether the person has prior DUIs or other offenses, and among others. Typically, people are placed on probation for a period of three to five years and are expected to complete a drunk driving program(s), pay court fines and fees, not commit any criminal offenses, and not to drive with any measurable amount of alcohol in their system. This is not an exhaustive list and can vary from court to court depending on the particular circumstances.
Regardless of what probation terms are imposed during sentencing, a California DUI defendant is required to pay large fines, show of proof of enrollment and/or completion in the various probationary programs imposed by sentence. The particulars vary from court to court but typically a DUI defendant must keep a number of due dates in mind when sorting out the details of his or her sentence.
Generally, a probation violation will occur whenever a California DUI defendant fails to comply with a court-ordered activity. In such a situation, the judge will likely issue a bench warrant for the individual's arrest. Once arrested, that person will have to appear before the judge and face sanctions. Often times a Los Angeles DUI probation violation will occur when a person is caught driving on a suspended license as a result of their DUI conviction.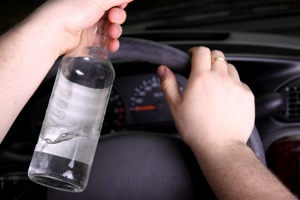 Additionally, probation violations can occur when someone is charged with a new offense, or is caught driving with any measurable amount of alcohol in their system (even if their blood alcohol content is under .08, the legal limit for DUI). Common offenses that trigger probation violations are driving without a valid driver's license or without valid automobile insurance.
If you have been charged with violating the terms of your California DUI probation, it is imperative that you have a skilled California DUI defense attorney handling your case immediately. Judges do not take probation violations lightly and are apt to assess serious sanctions, including jail time. Many times, the violation was triggered by a misunderstanding occurring when certain due dates are missed. The DUI defendant may have complied with their class, but can still be violated nonetheless if they forgot to show proof of enrollment or proof of completion. In these instances, the violation may be cleared up. If the violation is for a new offense, a skilled DUI attorney can handle both allegations simultaneously and fight on their client's behalf to minimize any court sanction.
Los Angeles DUI Attorney Michael Kraut is a former deputy district attorney who has handled probation violations from both the defense and prosecutorial positions. He is adept at handling post conviction matters and vigorously defends his clients who have been accused of violating their DUI probations.
For more information about DUI probation violations, and to schedule your free consultation, contact Michael Kraut at the Kraut Law Group. Mr. Kraut can be reached 24/7 at 888-334-6344 or 323-464-6453.