Kidnapping vs. False Imprisonment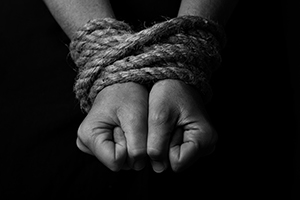 In California, two offenses that are often misinterpreted or confused are false imprisonment and kidnapping. While both involve the unlawful restraint of an individual's freedom, they differ in crucial aspects, and understanding the differences is absolutely critical if you are charged with either of these offenses.
False Imprisonment
False imprisonment, as defined in California Penal Code Section 236, involves the unlawful restraint or confinement of another person against their will, without any lawful authority. This offense typically occurs when an individual intentionally detains, confines, or restrains another person without their consent or without legal justification.
To establish a case of false imprisonment, several elements must be met. These elements include intentional restraint, lack of consent, and an understanding that the confinement would result in the deprivation of the victim's liberty. False imprisonment can occur through physical force, threats, duress, or even through the use of psychological means.
It is important to note that false imprisonment does not necessarily require the movement or transportation of the victim. The focus lies on the act of unlawfully confining an individual, restricting their freedom to leave or move within a particular space.
Kidnapping
Kidnapping, on the other hand, is a more serious offense under California law. It is addressed in California Penal Code Section 207, and it involves the intentional and unlawful abduction, confinement, or restraint of another person, with specific additional elements that differentiate it from false imprisonment.
To establish a case of kidnapping, the following elements must be satisfied: the intentional movement of the victim; the movement must be against the victim's will; and the movement must be accomplished through force, fear, fraud, or deception. Unlike false imprisonment, kidnapping requires the physical movement or transportation of the victim, demonstrating an increased level of danger and harm.
Furthermore, kidnapping can be categorized into two degrees: first-degree and second-degree kidnapping. First-degree kidnapping occurs when certain aggravating factors are present, such as the demand for ransom, the commission of another felony, or the victim being held for a substantial period. Second-degree kidnapping encompasses cases that do not meet the criteria for first-degree kidnapping.
Key Distinctions
The most significant distinction between false imprisonment and kidnapping lies in the element of movement. False imprisonment does not necessarily involve transportation or movement of the victim, while kidnapping explicitly requires it. Furthermore, false imprisonment focuses on the act of confinement without consent, whereas kidnapping requires intent, movement, and elements such as force, fear, fraud, or deception. Finally, kidnapping is considered a more serious offense due to its inherent potential for greater harm, as it involves the forcible abduction and transportation of a victim against their will.
Penalties of False Imprisonment vs. Kidnapping
The penalties for kidnapping are generally more severe compared to false imprisonment. Kidnapping is a felony offense and can result in imprisonment for several years, whereas false imprisonment can be charged as either a misdemeanor or a felony, depending on the circumstances. This means that if a person is convicted of kidnapping, they will either be placed on felony probation, or will be sentenced to state prison.
Ultimately, while false imprisonment and kidnapping share the common aspect of restraining an individual's freedom, they differ significantly in terms of movement, intent, and severity. If you are arrested for either kidnapping or false imprisonment, it is absolutely critical that you discuss your case with a knowledgeable and aggressive criminal defense attorney as soon as possible. As a former Deputy District Attorney with over 14 years of prosecutorial experience, Los Angeles criminal defense attorney Michael Kraut understands the critical legal distinctions between these two Penal Code sections, and has successfully defended numerous kidnapping and false imprisonment cases.
For more information about the criminal justice process, and to schedule your free consultation, contact Michael Kraut at the Kraut Law Group located at 6255 Sunset Boulevard, Suite 1520, Los Angeles, CA 90028. Mr. Kraut can be reached 24/7 at (888) 334-6344 or (323) 464-6453.