Los Angeles Child Endangerment Attorney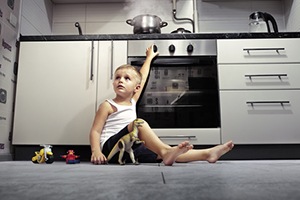 While people understand that child abuse is a serious criminal offense, many do not know that negligently placing one's child in a dangerous situation is also a domestic violence crime. Under California Penal Code Section 273a PC, child endangerment is a criminal offense that can result in felony charges.
The Elements of Child Endangerment
In order to be convicted of child endangerment, the prosecutor would have to prove the following elements beyond a reasonable doubt; that the defendant inflicted pain or mental suffering child without justification or permitted the child to suffer pain or suffering, that there were circumstances likely to produce death or great bodily harm, that the defendant was criminally negligent and that the defendant did not act reasonably in disciplining his or her child.
PENAL CODE § 273a
In many cases, a defendant who is arrested for driving under the influence with a child in the vehicle can also be charged with a separate count of child endangerment. The prosecution could also add a California Vehicle Code Section 23572 PC allegation to the DUI charge when a defendant has a minor in a vehicle at the time of a DUI offense. This sentencing enhancement can result in mandatory jail time upon conviction for DUI.
Defenses to Child Endangerment
There are several legal defenses that may be applicable to defendants who have been accused of child endangerment. These types of allegations often arise during contested child custody arguments between parents. In many cases, one or both parents may falsely accuse the other of child endangerment and even coach the child to provide a false account of facts. In these cases, it is necessary to establish the motive to lie and demonstrate how the accusation was, in fact, false.
In addition, this is a criminal offense that is extremely fact specific. Reasonable parents may momentarily have a lapse of attention during which their child does something or gets into a situation that is potentially dangerous or life-threatening. In these cases, the defense can argue that no crime had been committed. In addition, there are also circumstances where one parent is charged with child endangerment for bringing a new boyfriend or other person into the home that could potentially harm the child. In these cases, the defense would have to demonstrate that the defendant's conduct was neither international nor criminally negligent.
Penalties and Consequences of a Child Endangerment Conviction
Typically, prosecutors will opt to file misdemeanor child endangerment charges where there was little or no risk or death or great bodily harm involved. In these cases, the defendant can be sentenced to serve up to six months in jail if convicted. In addition, the court will typically require that the defendant complete intensive parental counselling as a condition of probation.
If the child endangerment involved a risk or death or great bodily harm, the defendant can be charged with this offense as a felony. If convicted, he or she can be sentenced to serve up to four years in prison.
The police will always refer these cases to the Los Angeles County Department of Children and Family Services ("DCFS") who will perform their own investigation relating to the welfare of the child. Ultimately, DCFS can petition for removal of the child from the home and placement in a safer environment.
Those who are convicted of child endangerment will be prevented from working in child care or teaching jobs and a conviction of this nature can also threaten professional licenses.
If you or a loved one have been arrested for child endangerment, it is crucial that you consult with an attorney familiar with these types of cases as soon as possible. As a former Deputy District Attorney with over 14 years of prosecutorial experience, Michael Kraut appreciates the sensitive nature of cases like this and works hard to ensure his clients receive the best representation possible.
For more information about child endangerment, and to schedule your free consultation, contact Michael Kraut at the Kraut Law Group located at 6255 Sunset Boulevard, Suite 1480, Los Angeles, CA 90028. Mr. Kraut can be reached 24/7 at 888-334-6344 or 323-464-6453.
Client Reviews
He gave me the peace of mind that my DUI case was going to be resolved. He fought for what it was needed and helped me by answering all my questions. Mike is not an average attorney. He's a very experienced, honest and straightforward person that is there for you!
I hired Attorney Mike Kraut and I'm am so happy and grateful that I did! I was arrested for a DUI because my BAC level was over the .08 limit. I ended up getting a wet and reckless instead of a DUI. I still have to do some classes and I'm on probation, but I do not have a DUI on my record. If you have a DUI hire Attorney Kraut, he definitely knows his stuff!
There aren't enough positive words to write about Mike, but let me be clear that this is the only lawyer worth hiring in Los Angeles. Mike is professional, caring, and an absolute champion at winning in court.
Mike Kraut is not a typical lawyer. He is a straightforward person with a true heart and a sympathetic ear. He is also smart and connected and he cares about the people who seek out his help. He got my son out of a jam. He did it quickly and painlessly. I recommend Mike Kraut to anyone that needs his services.
Thank you Mike for helping my son.
Michael Kraut is a rock star lawyer. I was really happy and satisfied with the results I received from Michael and his team. A few months back I was being accused of a serious felony. Mike gave me sound legal advice and worked diligently to clear my name. Mike was great at always keeping me updated and returning calls. Great, great lawyer I cant say enough about this man!
How can I express how relieved and pleased I am with Michael's professional abilities to have my Felony brought down to a misdameanor to a possible dismissal with deferment. With his care my life has been turned around and cannot say how helpful he's been not only in my case but life. He, himself has changed how I view criminal lawyers. Thank you so much Michael!