Stalking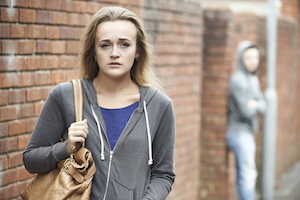 In recent years, there has been an increase in stalking offenses that often result in violent acts. As a result, the California legislature has drafted California Penal Code Section 646.9 PC which specifically targets stalking and imposes harsh criminal penalties on those convicted of this offense.
The stalking laws in California were adopted after a number of high-profile celebrity stalking cases resulted in violent attacks. However, most stalking prosecutions do not involve celebrities and are not committed by strangers. In many cases, this crime may be filed in connection with a domestic violence offense.
In order to convict a defendant of stalking, the prosecution would be required to prove that the defendant willfully, repeatedly and maliciously followed or harassed the victim, the defendant made a credible threat regarding the victim and that the defendant did this with the intent of placing the victim in fear.
Stalking can include a variety of different activities, such as following someone, making repeated phone calls or sending numerous unwanted text messages, sending unwanted gifts or notes or continuously driving by the person's house or place of work. If the person targeted for this activity was ever a boyfriend, girlfriend, husband or wife of the defendant, this could be considered an act of domestic violence.
There are a number of defenses that may apply to a defendant who has been charged with stalking. If the underlying threat was not one that would be considered credible, then the defendant would not be guilty of this offense. This defense would not apply to threats made from someone who is incarcerated. If the threat was only supposed to be a joke and was not meant to be taken seriously, the defendant may have a strong defense if charged with stalking.
Additionally, a person would not be guilty of stalking if he or she was engaged in a constitutionally protected form of free speech. For example, a group of protesters follow a politician who they oppose. The protesters heckle the man when he gives speeches and even park outside his office. These protesters would not be guilty of stalking because they were engaged in political speech that is protected by the First Amendment to the United States Constitution.
Stalking is a "wobbler" offense that can be charged as either a felony or a misdemeanor. A prosecutor deciding whether to file felony or misdemeanor charges will typically review factors such as the specific facts of the case and the defendant's criminal history. In certain situations, stalking is always a felony level offense. This is the case where the defendant is accused of stalking in violation of a protective order or where the defendant has previously been convicted of stalking, even if the old case was against a different victim.
If convicted of stalking as a misdemeanor, the defendant can be sentenced to serve up to a year in jail in addition to court fines, mandatory counseling and a restraining order that would prohibit future contact with the victim. If convicted of felony stalking, the defendant can be sentenced to up to five years in prison. If the stalking offense resulted in great bodily harm to the victim, the defendant can be sentenced to addition three to five years in prison. In addition, if the defendant was armed at the time the stalking occurred, he or she could be sentenced to an additional one to three years in prison.
Someone who is convicted of felony stalking may be ordered to register as a sex offender pursuant to California Penal Code Section 290 PC. It is within the sentencing judge's discretion whether or not to require sex offender registration for a defendant convicted of felony stalking. If the defendant is required to register as a sex offender and fails to do so, he or she can be charged with a felony offense.
If you have been charged with stalking, or believe you may be under investigation for this offense, it is critical that you consult with a Los Angeles Criminal Defense Lawyer as soon as possible. As a former Deputy District Attorney with over 14 years of prosecutorial experience, Los Angeles Criminal Defense Attorney Michael Kraut understands how to effectively defend those charged with stalking and other similar offenses.
For more information about Los Angeles stalking offenses, and to schedule your free consultation, contact Los Angeles Criminal Defense Lawyer Michael Kraut at the Kraut Criminal & DUI Lawyers located at 6255 Sunset Boulevard, Suite 1520, Los Angeles, CA 90028. Mr. Kraut can be reached 24/7 at 888-334-6344 or 323-464-6453.