Domestic Violence 911 Calls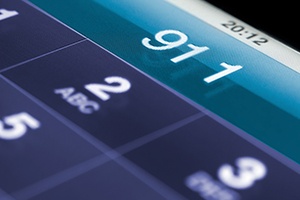 The majority of domestic violence cases begin when a call is placed to 911 reporting the incident. This emergency call sets into a motion a series of events that may be critical to the case once it is filed in court. The call is an important piece of domestic violence evidence that sometimes makes up the entirety of the prosecution's case, especially when the complaining witness becomes unavailable. It is important to understand how the 911 call is used in a domestic violence case.
The Initial 911 Call
A domestic violence case will often begin when a person calls into 911 to report an incident. The person calling is not always the "victim" of the assault. In some cases, a third party witness, such as a child or a neighbor will place the call to 911. In other cases, the person who makes the call to 911 to report the fight ultimately ends up being the party who is arrested. This occurs when police arrive and interview the subjects and ultimately determine that the caller was actually the aggressor. Most law enforcement agencies have a policy that all domestic violence calls must result in one or both parties being arrested.
When a person calls 911, the operator is trained to get as much information from the caller as possible. The operator will ask for names, addresses and full accounts of what transpired. This information is then communicated to officers in the field who will respond to the call and investigate.
These calls are all recorded and in many cases the calls will be played in court as evidence against the defendant. The calls may be used to contradict subsequent statements made by the named victim or to bolster the prosecutor's case.
Calling 911 During an Argument
In some cases, couples will argue and one or both parties will threaten to call 911 in order to get the other party in trouble. Sometimes this threat is acted upon by one of the parties. The person calling 911 may not really want the police to respond. However, whenever a call is made to 911, the operator is trained to refer the call to law enforcement who will respond and investigate the incident regardless. The caller may call back and ask to retract the call, however police will still be sent. Fights between couples can be extremely emotional and a person can call 911 in the heat of the moment and later regret his or her actions.
Use of the 911 Recording in Court
All 911 calls are recorded and are generally turned over to the defense when requested as part of an informal discovery request. The prosecutor may play the 911 recording in court as evidence against the defendant. There are situations where the named victim does not want to participate or is no longer available by the time the case goes to trial. In the past, courts allowed prosecutors to play the 911 tapes even where the complaining witness was unavailable. However, the United States Supreme Court recently limited a prosecutor's ability to rely on hearsay evidence in cases where the named victim is no longer available and these 911 tapes may be considered inadmissible hearsay.
If you or a loved one have been arrested or charged with a domestic violence offense, it is crucial that you meet and discuss your case with an experienced criminal defense attorney as soon as possible. As a former Deputy District Attorney with over 14 years of prosecutorial experience, Michael Kraut understands how to effectively defend clients charged with domestic violence. In many cases, Mr. Kraut's early intervention has led to charges being rejected or significantly reduced.
For more information about domestic violence 911 calls, and to schedule your free consultation, contact Michael Kraut at the Kraut Law Group located at 6255 Sunset Boulevard, Suite 1480, Los Angeles, CA 90028. Mr. Kraut can be reached 24/7 at 888-334-6344 or 323-464-6453.
Client Reviews
He gave me the peace of mind that my DUI case was going to be resolved. He fought for what it was needed and helped me by answering all my questions. Mike is not an average attorney. He's a very experienced, honest and straightforward person that is there for you!
I hired Attorney Mike Kraut and I'm am so happy and grateful that I did! I was arrested for a DUI because my BAC level was over the .08 limit. I ended up getting a wet and reckless instead of a DUI. I still have to do some classes and I'm on probation, but I do not have a DUI on my record. If you have a DUI hire Attorney Kraut, he definitely knows his stuff!
There aren't enough positive words to write about Mike, but let me be clear that this is the only lawyer worth hiring in Los Angeles. Mike is professional, caring, and an absolute champion at winning in court.
Mike Kraut is not a typical lawyer. He is a straightforward person with a true heart and a sympathetic ear. He is also smart and connected and he cares about the people who seek out his help. He got my son out of a jam. He did it quickly and painlessly. I recommend Mike Kraut to anyone that needs his services.
Thank you Mike for helping my son.
Michael Kraut is a rock star lawyer. I was really happy and satisfied with the results I received from Michael and his team. A few months back I was being accused of a serious felony. Mike gave me sound legal advice and worked diligently to clear my name. Mike was great at always keeping me updated and returning calls. Great, great lawyer I cant say enough about this man!
How can I express how relieved and pleased I am with Michael's professional abilities to have my Felony brought down to a misdameanor to a possible dismissal with deferment. With his care my life has been turned around and cannot say how helpful he's been not only in my case but life. He, himself has changed how I view criminal lawyers. Thank you so much Michael!