Domestic Violence - Damaging Phone, Electrical or Utility Lines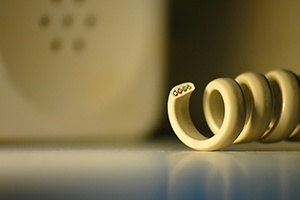 Many of the criminal offenses that are classified as domestic violence do not involve acts of physical assault or abuse. Under California Penal Code Section 591 PC, it is illegal to damage a phone, electrical or utility line. In many cases, this offense is charged when people involved in domestic violence incidents damage telephone equipment or phone lines in order to prevent an emergency call or other call for help. When the victim is one of the classes of people listed in California Family Code Section 6211 FC, damaging a phone line is considered a domestic violence offense and the defendant will be subject to certain mandatory sentencing provisions under California Penal Code Section 1203.097 PC.
Elements of the Crime of Damaging a Phone, Electrical or Utility Line
A defendant is guilty under California Penal Code Section 591 PC if he or she either unlawfully took down, removed, damaged or obstructed a telephone line, cable television line, electrical line or equipment connected to a line, unlawfully severed a telephone, cable or electrical line or made an unauthorized connection to an electrical line. The defendant must have acted maliciously in order to be held criminally liable for this offense.
Damaging a Phone Line as a Domestic Violence Offense
A defendant can be charged with this offense regardless of his or her relationship to the victim. However, there are many instances where a telephone line is damaged as part of an act of domestic violence against a loved one or family member. This may be done to prevent the victim from calling the police or placing an emergency call.
Even though the statutory language of California Penal Code Section 591 PC talks about cutting or damaging a telephone line, courts have interpreted this statute broadly to apply whenever a defendant damages telephone equipment. If a person knocks a phone out of another person's hand or disables it by removing the battery, this would be considered a violation of California Penal Code Section 591 PC.
Penalties for Damaging a Phone Line
Damaging a phone, electrical or utility line is a "wobbler" offense that can be charged as either a felony or a misdemeanor. When making a filing decision, the prosecutor will consider the underlying facts of the case and the defendant's criminal history.
If charged with a misdemeanor, the maximum penalty is a year in jail and a fine of up to $1,000. If charged with a felony, the defendant can be sentenced to serve up to three years in prison.
If the victim was a former or current spouse, boyfriend, girlfriend, cohabitant, co-parent, child or family member, the case would be subject to the sentencing provisions set forth in California Penal Code Section 1203.097 PC. Defendants sentenced to probation would be required to serve a minimum probation term of three years and the Court would have to issue a protective order prohibiting the defendant from having contact with the named victim. The defendant would have to complete a domestic violence batterers' program and pay a minimum $500 fine. The Court may also require the defendant to complete a specific amount of community service hours.
If you or a loved one have been arrested or charged with damaging a telephone, electrical or utility line, it is imperative that you discuss your case with a skilled criminal defense attorney right away. As a former Deputy District Attorney with over 14 years of prosecutorial experience, Michael Kraut understands how to effectively defend clients charged with damaging phone lines and other domestic violence related offenses. In many cases, Mr. Kraut's early involvement in a case prior to filing has resulted in charges being significantly reduced and even dismissed.
For more information about damaging phone, electrical or utility lines, and to schedule your free consultation, contact Michael Kraut at the Kraut Law Group located at 6255 Sunset Boulevard, Suite 1520, Los Angeles, CA 90028. Mr. Kraut can be reached 24/7 at 888-334-6344 or 323-464-6453.