DUI and the Mouth Swab Test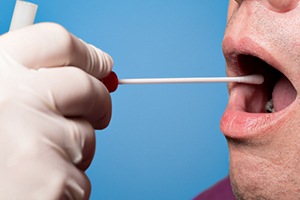 Law enforcement agencies are constantly adopting new technologies to help in the detection and prevention of DUI offenses. Since the passing of Proposition 64 in November 2016, law enforcement agencies are concerned that there will be a steep increase in the amount of drivers under the influence of marijuana. San Diego has recently acquired two mouth-swab devices designed to measure if a driver has been using marijuana or other drugs. These mouth swab tests may soon become standard throughout California as agencies crack down on those who drive under the influence of drugs.
Current Method of Drug Detection in DUI Drivers
When an officer suspects that a driver is under the influence of alcohol, the officer will ask the driver to provide a breath sample on his or her portable preliminary alcohol sensor ("PAS") device during the DUI investigation phase or on the stationary Breathalyzer machine if the driver has already been arrested. Both devices are designed to measure the alcoholic content of alveolar air from the deep lung area and can calculate the driver's blood alcohol content immediately.
If a driver is suspected of driving under the influence of drugs, the only option previously was to obtain a blood sample that would then be analyzed by a lab technician or trained criminologist. This process takes several weeks and the results of the blood test would not be immediately known to the police.
The Mouth Swab Test
In order to determine immediately whether or not a driver has been using drugs, law enforcement agencies are adopting mouth swab devices. The Dräger DrugTest 5000 is the size of a mini bookshelf stereo system and is designed to test for the presence of seven different drugs, including marijuana, cocaine, opiates, methamphetamine, amphetamine, methadone and benzodiazepines. This machine only performs a qualitative, and not a quantitative examination of the drug content in the test taker's system. This means that the machine can test for the presence of a drug but cannot tell how much of the drug a driver has consumed.
In order to conduct the mouth swab test, a driver is provided a mouth swab and is told to rub the swab around the inside of his or her mouth for up to four minutes. The swab is then placed inside the device with a testing solution. The testing process takes six to eight minutes and will provide a printout indicating positive results. If there is a positive test, the driver would then be asked to provide a blood sample. A driver can lawfully refuse the mouth swab test, but cannot refuse the blood test. A driver who refuses blood testing can be charged with DUI along with a refusal allegation that would add mandatory jail time. The driver would also lose his or her driving privileges for a full year. When a driver refuses blood testing, the police can obtain a warrant for a forced blood draw.
What Type of THC is Detected
The mouth swab device only tests for the delta-9 THC component of marijuana. This component will stay in a person's system for a few hours or longer, depending on how marijuana was ingested. The machine cannot detect inactive THC compounds that often remain in a person's system for weeks.
If you have been charged with a DUI drug offense, it is crucial that you discuss your case with a knowledgeable DUI lawyer right away. Michael Kraut is a former Deputy District Attorney with over 14 years of prosecutorial experience who possesses an expansive knowledge of DUI law and works hard to ensure his clients receive the best representation possible.
For more information about DUI and the mouth swab test, and to schedule your free consultation, contact Mr. Kraut 24/7 at 888-334-6344 or 323-464-6453.