Officer's Admonition in Los Angeles DUI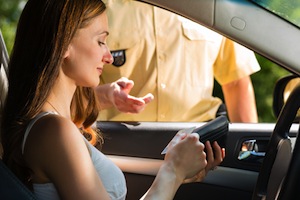 When a driver has been lawfully arrested for driving under the influence, the arresting officer is required by law to inform the DUI suspect of his or her obligations regarding chemical testing. Under California Vehicle Code Section 23612 VC, "the person shall be told that his or her failure to submit to, or the failure to complete, the required chemical testing will result in a fine, mandatory imprisonment, if the person is convicted . . . and the suspension of the person's privilege to operate a motor vehicle for a period of one year…." The language used in the statute states that this warning is mandatory and a law enforcement officer must provide this information to anyone who has been arrested for driving under the influence of alcohol or drugs.
California's Implied Consent Laws
Under California's implied consent laws, anyone who is driving a motor vehicle is deemed to have given implied consent to have his or her breath or blood tested for the presence of drugs or alcohol if lawfully arrested on suspicion of DUI. This means that the act of refusing to take a chemical test is itself illegal and will result in the defendant being charged with DUI under California Vehicle Code Section 23152(a) VC as well as the refusal enhancement.
There may be situations where an officer forgets to provide a DUI suspect with the refusal admonition or does not deliver the admonition in compliance with statutory requirements. When this is the case, the driver may have grounds to challenge any subsequent refusal allegation or driver's license suspension.
Refuse Testing and Face a Yearlong Suspension
A driver who has refused testing faces a yearlong suspension of his or her driving privileges regardless of what happens in the court case. Unlike other driver's license suspensions, the driver would not be eligible for a restricted license during the suspension period if he or she refused chemical testing.
In order to contest the suspension, the driver must actively request an administrative hearing with the California Department of Motor Vehicles within ten days of the DUI arrest. A qualified Los Angeles DUI Attorney can ensure that the proper DMV request is filed within the statutory time limits. The Department will issue a stay of suspension and will provide the driver with a temporary license while the matter is pending.
During the DMV hearing, which is conducted by a hearing officer from the Department who is neither a judge nor an attorney, the driver will have a chance to challenge the refusal allegation. In many cases, the arresting officer will be called by the DMV to testify regarding his or her arrest report and the circumstances of the driver's alleged refusal. A driver is allowed to be represented by an attorney at this hearing.
Failed to provide a Refusal Admonition
In many cases, the officer may have failed to provide a refusal admonition that complies with California Vehicle Code Section 23612 VC. Some officers may find the blood test to be too time-consuming, as it usually requires the suspect to be transported to a hospital or other location and then prepped for a blood draw. There are time constraints that can jeopardize a DUI arrest. If a person is not tested within three hours of driving, the DMV no longer presumes that the test results are an accurate representation of the driver's BAC at the time of driving. In comparison, the breath test machine is usually kept right at the police station and is very easy to operate. Officers may not tell drivers about the blood test or may improperly encourage the driver to take a breath test.
In addition, officers may fail to provide all information that is required by law. The officer may tell the driver that his or her driving privileges "may" be suspended as a result of the refusal. Under the law, the officer must tell that driver that his or her license "will" be suspended. Failure to provide the proper refusal admonition may result in the DMV setting aside the suspension.
If you have been charged with a DUI offense, it is critical that you meet with a Los Angeles DUI Attorney immediately. As a former Deputy District Attorney with over 14 years of prosecutorial experience, Lawyer Michael Kraut possesses a mastery of the DUI laws and knows how effectively to fight these types of charges.
For more information about the DUI officer's admonition, and to schedule your free consultation, contact Michael Kraut at the Kraut Law Group located at 6255 Sunset Boulevard, Suite 1480, Los Angeles, CA 90028. Mr. Kraut can be reached 24/7 at 888-334-6344 or 323-464-6453.
Client Reviews
He gave me the peace of mind that my DUI case was going to be resolved. He fought for what it was needed and helped me by answering all my questions. Mike is not an average attorney. He's a very experienced, honest and straightforward person that is there for you!
I hired Attorney Mike Kraut and I'm am so happy and grateful that I did! I was arrested for a DUI because my BAC level was over the .08 limit. I ended up getting a wet and reckless instead of a DUI. I still have to do some classes and I'm on probation, but I do not have a DUI on my record. If you have a DUI hire Attorney Kraut, he definitely knows his stuff!
There aren't enough positive words to write about Mike, but let me be clear that this is the only lawyer worth hiring in Los Angeles. Mike is professional, caring, and an absolute champion at winning in court.
Mike Kraut is not a typical lawyer. He is a straightforward person with a true heart and a sympathetic ear. He is also smart and connected and he cares about the people who seek out his help. He got my son out of a jam. He did it quickly and painlessly. I recommend Mike Kraut to anyone that needs his services.
Thank you Mike for helping my son.
Michael Kraut is a rock star lawyer. I was really happy and satisfied with the results I received from Michael and his team. A few months back I was being accused of a serious felony. Mike gave me sound legal advice and worked diligently to clear my name. Mike was great at always keeping me updated and returning calls. Great, great lawyer I cant say enough about this man!
How can I express how relieved and pleased I am with Michael's professional abilities to have my Felony brought down to a misdameanor to a possible dismissal with deferment. With his care my life has been turned around and cannot say how helpful he's been not only in my case but life. He, himself has changed how I view criminal lawyers. Thank you so much Michael!