Anonymous Tips for Impaired Drivers in LA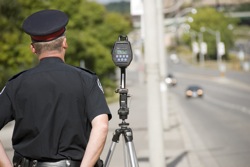 In driving under the influence cases, an officer usually must have reasonable suspicion that a driver is violating the law before stopping the vehicle. The reasonable suspicion is typically based on something the officer observes, such as a speeding or lane change violation or an equipment violation. Once the driver has been pulled over, the officer may form the suspicion that the driver is under the influence of drugs or alcohol and can conduct a DUI investigation.
However, with more and more drivers having access to cell phones, police agencies increasingly rely on reports and tips of dangerous drivers received from the general public. Anyone who has driven on California freeways will notice signs urging motorists to report impaired driving. When a person calls 911 to report a suspected drunken driver, he or she may not give a name. In recent years, courts have had to address whether police can rely on an anonymous call to justify a traffic stop.
Anonymous Call to Justify Traffic Stop
Recent California and United States Supreme Court decisions have generally allowed police to rely on anonymous reports to justify a vehicle stop. In the 2006 People v. Wells case, the California Supreme Court considered a case where an officer pulled a driver over after receiving a dispatch call of a possible impaired driver who was weaving all over the road. The officer found a vehicle that matched the description in the dispatch call travelling on the same freeway as mentioned in the call. The officer did not observe any illegal driving conduct, but stopped the vehicle anyway. The officer suspected that the driver was impaired and she was ultimately arrested for driving under the influence of drugs.
Upheld by Supreme Courts
The California Supreme Court held that the arrest was valid based on the anonymous tip. The California Supreme Court noted that in order to justify a traffic stop based on an anonymous tip, certain criteria must have existed when the traffic stop was conducted. The officer must have reasonably concluded that the vehicle stopped was the same one as reported, the caller must have actually observed a violation of the law, the caller must have described a dangerous situation and the caller must be reliable.
The United States Supreme Court subsequently addressed traffic stops based on anonymous tips in the Navarette v. California case that originated out of California. In Navarette, an anonymous caller reported a driver who had nearly driven her off the road. The CHP found the car and followed it. The car was driving normally but the officer decided to pull the vehicle over. The driver was not impaired, however the officer discovered 30 pounds of marijuana in the vehicle. In the 5-4 decision, the U.S. Supreme Court held that the traffic stop was valid based on the anonymous call. To be valid, the report must either come from a known or credible source or must contain "indicia of reliability" if the caller is anonymous.
Even where the 911 caller reports anonymously, there may be ways to verify the call and the caller's identity. Through the DUI discovery process, the defendant can request a copy of the 911 call and dispatch recordings. The law enforcement agency may have recorded the caller's phone number and it may be possible to subpoena cell phone records and cell site information to determine whether or not the caller's report was accurate.
In many cases, the police will not immediately pull a driver over once dangerous driving has been reported, but instead will follow the vehicle to determine if there are independent grounds to stop the driver.
A DUI defendant can challenge the vehicle stop by filing a motion to suppress the evidence pursuant to California Penal Code Section 1538.5 PC. If the traffic stop is found to be invalid, the judge will suppress all resulting evidence and the prosecution will usually have to dismiss the case.
If you have been arrested for a DUI offense, it is imperative that you contact a Los Angeles DUI Attorney immediately. As a former Deputy District Attorney with over 14 years of prosecutorial experience, Lawyer Michael Kraut is highly skilled at identifying and litigating critical issues relating to DUI offenses. Mr. Kraut works hard to ensure his clients receive the most comprehensive representation possible.
For more information about Los Angeles DUI Anonymous Tips, and to schedule your free consultation, contact Michael Kraut at the Kraut Law Group located at 6255 Sunset Boulevard, Suite 1480, Los Angeles, CA 90028. Mr. Kraut can be reached 24/7 at 888-334-6344 or 323-464-6453.
Client Reviews
He gave me the peace of mind that my DUI case was going to be resolved. He fought for what it was needed and helped me by answering all my questions. Mike is not an average attorney. He's a very experienced, honest and straightforward person that is there for you!
I hired Attorney Mike Kraut and I'm am so happy and grateful that I did! I was arrested for a DUI because my BAC level was over the .08 limit. I ended up getting a wet and reckless instead of a DUI. I still have to do some classes and I'm on probation, but I do not have a DUI on my record. If you have a DUI hire Attorney Kraut, he definitely knows his stuff!
There aren't enough positive words to write about Mike, but let me be clear that this is the only lawyer worth hiring in Los Angeles. Mike is professional, caring, and an absolute champion at winning in court.
Mike Kraut is not a typical lawyer. He is a straightforward person with a true heart and a sympathetic ear. He is also smart and connected and he cares about the people who seek out his help. He got my son out of a jam. He did it quickly and painlessly. I recommend Mike Kraut to anyone that needs his services.
Thank you Mike for helping my son.
Michael Kraut is a rock star lawyer. I was really happy and satisfied with the results I received from Michael and his team. A few months back I was being accused of a serious felony. Mike gave me sound legal advice and worked diligently to clear my name. Mike was great at always keeping me updated and returning calls. Great, great lawyer I cant say enough about this man!
How can I express how relieved and pleased I am with Michael's professional abilities to have my Felony brought down to a misdameanor to a possible dismissal with deferment. With his care my life has been turned around and cannot say how helpful he's been not only in my case but life. He, himself has changed how I view criminal lawyers. Thank you so much Michael!