Los Angeles DUI and Anonymous Tips
Los Angeles DUI Attorney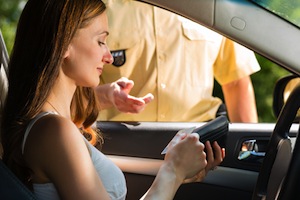 In most driving under the influence cases, the DUI process begins when a law enforcement officer stops a vehicle for a traffic violation or driving conduct that would be indicative of impaired driving. However, as more and more drivers on the road have cell phones and other communication devices, an increasing number of DUI investigations start when a third party places an anonymous call to report a dangerous or potentially impaired driver. In many cases, these anonymous tips can lead to a DUI arrest and prosecution of the driver of the targeted vehicle.
In order to crack down on DUI offenses, local authorities have encouraged drivers to contact 911 if they observe other vehicles driving erratically. Illuminated alerts on the freeway are featured prominently at night and on weekends when there is a higher occurrence of DUI incidents. As a result, law enforcement agencies receive numerous calls regarding dangerous drivers on the road. The 911 operator is able to connect the call to law enforcement who will then dispatch an officer. The officer will be given information regarding the suspect vehicle, including a description and license plate information. In many cases, the officer is able to find the vehicle and will follow up.
In some cases, the officer may follow the vehicle in order to corroborate the driving conduct described with what is observed. If the officer notices the vehicle commit any Vehicle Code violations, he or she will pull the vehicle over and will approach the driver. When speaking with the driver, the officer will be looking for signs of intoxication such as an odor of alcohol on the driver's breath or person, bloodshot or watery eyes or slurred speech. If these symptoms are observed, the officer will conduct a DUI investigation which may include field sobriety testing and a breath test on the officer's preliminary alcohol screening ("PAS") device.
In some cases, an officer may follow the suspect vehicle but will not observe it commit any traffic violations or otherwise exhibit suspicious driving conduct. Usually in these instances, an officer cannot legally pull over the vehicle because an officer has to have reasonable or probable cause for a vehicle stop to be considered constitutionally valid. However courts have held that if the officer is relying on a tip from a caller, in many cases the stop will be permissible. To be safe, many law enforcement agencies train their officers to find independent grounds to stop the driver; which is why many officers follow a vehicle to see if it commits a traffic violation in the officer's presence.
When someone places a call to 911, the dispatch operator will often ask the caller if he or she wants to provide identification or remain anonymous. Even if the caller chooses to remain anonymous, there will be a record of the call and it may be possible to identify the caller at a later date. In some cases, the anonymous caller may have provided false information to the police in order to cause trouble for the defendant. Under these circumstances, a defendant may have grounds to challenge the validity of a traffic stop based on intentionally false information.
If you have been arrested for a DUI offense resulting from an anonymous call, it is imperative that you consult with a Los Angeles DUI Attorney right away. Attorney Michael Kraut is a former Deputy District Attorney with over 14 years of prosecutorial experience who understands how to effectively fight DUI charges and is highly respected throughout the court system as a skilled litigator.
For more information about Los Angeles DUI and anonymous tips, and to schedule your free consultation, contact Michael Kraut at the Kraut Law Group located at 6255 Sunset Boulevard, Suite 1520, Los Angeles, CA 90028. Mr. Kraut can be reached 24/7 at 888-334-6344 or 323-464-6453.