Los Angeles DUI And 911 Calls
Los Angeles DUI Attorney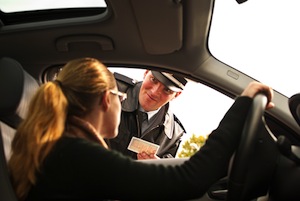 Many driving under the influence cases begin after a call is placed to 911 requesting officer assistance. The call may be related to a collision that has just occurred or the caller may be reporting another vehicle's dangerous driving conduct. These 911 calls are recorded and detailed logs regarding caller and dispatch information are maintained by law enforcement. In many cases, the 911 calls is a critical piece of evidence that can be instrumental in mounting a successful DUI defense.
Not all DUI cases involve 911 calls or other calls for services. In many DUI cases, an officer will pull over a vehicle after observing the driver commit a traffic violation. The officer may form the suspicion that the driver is under the influence if he or she exhibits symptoms of intoxication such as bloodshot and watery eyes, an odor of alcohol and slurred speech. The officer may have the driver participate in a series of field sobriety tests and may ask the driver to provide a breath sample on the officer preliminary alcohol screening ("PAS") device. Ultimately, the officer may arrest the driver on suspicion of DUI and then transport the driver to the police station or hospital for chemical testing.
In other cases, a police encounter may be prompted by a 911 call. Typically, when there is a collision, the victim or a witness may contact 911 to summon police assistance. These calls are recorded and may serve as valuable evidence in a defendant's DUI trial. The officer will be dispatched to respond to the scene of the accident and will conduct an accident investigation. The officer may come to suspect that one of the drivers is under the influence of drugs or alcohol and may conduct a DUI investigation on the driver, which would include questioning about drinking or drug use, field sobriety tests and breath tests on the PAS device.
In some cases, the police may be summoned after a driver has called 911 to report a suspected drunk driver. Electronic road signs on freeways encourage drivers to report suspicious driving activity and as more and more drivers carry cell phones the number of 911 calls reporting driving conduct has increased. The caller will typically provide identifying information for the suspect vehicle, such as the color, make, model or license plate number, and will describe the driving conduct. An officer will be dispatched to try and locate the suspect vehicle and will typically follow the car to determine if there are independent grounds to pull the vehicle over. The caller may ask to remain anonymous, however his or her contact information may be recorded it and may be possible to find the caller on a later date if necessary. In some cases, the caller may provide deliberately false information to the 911 operator in order to initiate the traffic stop. In these cases, there may be grounds to challenge the vehicle stop and potentially get the resulting DUI evidence suppressed.
911 calls are stored and are available to the defense through the DUI discovery process. The 911 calls are typically not provided at arraignment as part of the initial discovery packet, but may be requested later on by the defense. If the prosecution refuses to turn over the 911 calls and logs, the defense may file a formal discovery motion and request that the Court order the recordings be provided to the defense.
If you have been arrested for DUI, it is critical that you consult with a Los Angeles DUI Lawyer immediately. As a former Deputy District Attorney with over 14 years of prosecutorial experience, Attorney Michael Kraut understands how to effectively evaluate crucial evidence in a DUI case and ensure his clients receive the most comprehensive defense possible.
For more information about Los Angeles DUI and 911 calls, and to schedule your free consultation, contact Michael Kraut at the Kraut Law Group located at 6255 Sunset Boulevard, Suite 1480, Los Angeles, CA 90028. Mr. Kraut can be reached 24/7 at 888-334-6344 or 323-464-6453.
Client Reviews
He gave me the peace of mind that my DUI case was going to be resolved. He fought for what it was needed and helped me by answering all my questions. Mike is not an average attorney. He's a very experienced, honest and straightforward person that is there for you!
I hired Attorney Mike Kraut and I'm am so happy and grateful that I did! I was arrested for a DUI because my BAC level was over the .08 limit. I ended up getting a wet and reckless instead of a DUI. I still have to do some classes and I'm on probation, but I do not have a DUI on my record. If you have a DUI hire Attorney Kraut, he definitely knows his stuff!
There aren't enough positive words to write about Mike, but let me be clear that this is the only lawyer worth hiring in Los Angeles. Mike is professional, caring, and an absolute champion at winning in court.
Mike Kraut is not a typical lawyer. He is a straightforward person with a true heart and a sympathetic ear. He is also smart and connected and he cares about the people who seek out his help. He got my son out of a jam. He did it quickly and painlessly. I recommend Mike Kraut to anyone that needs his services.
Thank you Mike for helping my son.
Michael Kraut is a rock star lawyer. I was really happy and satisfied with the results I received from Michael and his team. A few months back I was being accused of a serious felony. Mike gave me sound legal advice and worked diligently to clear my name. Mike was great at always keeping me updated and returning calls. Great, great lawyer I cant say enough about this man!
How can I express how relieved and pleased I am with Michael's professional abilities to have my Felony brought down to a misdameanor to a possible dismissal with deferment. With his care my life has been turned around and cannot say how helpful he's been not only in my case but life. He, himself has changed how I view criminal lawyers. Thank you so much Michael!