Probable Cause for Los Angeles DUI
When conducting a Los Angeles DUI stop, investigation and arrest, the law enforcement agency involved must have probable cause to believe that a driver is violating the law. Police officers are not allowed to merely stop cars on a mere whims or idle suspicions. Under the Fourth Amendment to the United States Constitution, police and other law enforcement officials must be able to point to specific, articulable facts that a crime has been committed to justify an automobile stop.
Violations of the Law
The crime can be any violation of the law, not just those seemingly related to driving under the influence. For example, equipment violations such as missing or burned out taillights are proper grounds to initiate a vehicle stop, regardless of whether an officer suspects a driver has been drinking. In a typical California DUI investigation, police officers will cite offenses such as speeding and improper lane changes, all violations of the California Vehicle Code, as justifications for a traffic stop.
Exception to DUI Checkpoints in Los Angeles
In California, the one exception to this rule exists in regards to Los Angeles DUI checkpoints. Because these are considered to be administrative procedures and not criminal investigations, police agencies are allowed to rely on checkpoints to justify stopping otherwise lawful drivers. However, these checkpoints must adhere to very specific guidelines discussed in detail in the article on checkpoints.
Once a police officer has stopped a vehicle, that officer must further be able to articulate specific facts supporting a belief that the driver is under the influence of alcohol or another intoxicating substance. This can be based on the driver's appearance, odor and demeanor, the answer to questions posed by the officer, performance on field sobriety tests, and results of a preliminary alcohol screening (PAS) device.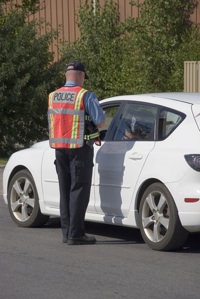 A defendant facing charges of DUI under California Vehicle Code 23152(a) or California Vehicle Code 23152(b) can challenge the probable cause of the stop, investigation and/or arrest by requesting a suppression hearing pursuant to California Penal Code Section 1538.5. At this hearing, the defendant is given a chance to question and cross-examine the arresting officer on his or her grounds for probable cause.
Because probable cause determinations involve a very intricate area of the law, it is imperative that you have a skilled and knowledgeable DUI attorney fighting on your behalf. Criminal Defense Attorney Michael Kraut is a former deputy district attorney who is extremely well-versed in challenging probable cause determinations on behalf of his clients. He has won many probable cause hearings including a well-known one in which he was retained after two other attorneys were fired. After the probable cause hearing all charges were dismissed on a third time DUI.
For more information about the DUI and Probable Cause, and to schedule your free consultation, contact Michael Kraut at the Kraut Law Group. Mr. Kraut can be reached 24/7 at 888-334-6344 or 323-464-6453.