Los Angeles Preliminary Alcohol Screening (PAS) Test
Once the police officer stops a suspected DUI driver in Los Angeles and Southern California, he or she will ask the driver to breathe into a PAS machine that the officer carries in the field. This machine measures the amount of alcohol in the driver's blood.
The PAS test is not mandatory if the driver is not on probation and over 21 years old. The officer, in almost all cases, will not tell you that you are not obligated to take the test. In many cases, the officer will tell the driver that the test is required and failure to take the test will result in the driver's license being immediately suspended. This is not true. Even if the Los Angeles DUI checkpoint was the reason for the stop.

The officer will use the results of the PAS test to establish probable cause to arrest the driver for DUI in Los Angeles.
If you have been arrested or charged with a DUI offense in the Los Angeles or Southern California area, call Michael Kraut. Mr. Kraut understands the serious nature of this offense, how best to defend you, and how to resolve your case without you going to jail. You have the right to tell the officer that you are refusing a PAS test and that you wish to contact your attorney immediately. Mr. Kraut has extensive knowledge of the law and the legal system. He has developed excellent relationships with law enforcement and law officials throughout the Los Angeles and Southern California.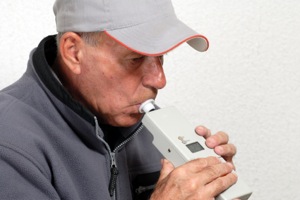 For more information about the various defenses for your DUI case, and to schedule your free consultation, contact Michael Kraut at the Kraut Criminal & DUI Lawyers. Mr. Kraut can be reached 24/7 at 888-334-6344 or 323-464-6453.