Los Angeles Blood Tests
Many people arrested for a DUI in Los Angeles and Southern California choose to take a blood test. Blood tests in California are generally treated uniformly. It does not matter if you are arrested for a DUI in anywhere in Southern California, law enforcement is supposed to handle blood samples in exactly the same manner. However, that does not always occur. The police may force you to give a blood sample against your will. In DUI cases in which a blood sample has been taken, Attorney Michael Kraut, a Los Angeles DUI attorney, will be able to investigate the methods used to draw the blood and test the sample and if there is an irregularity, attack the evidence. In many of these cases the blood sample can be suppressed by the court after a full evidentiary hearing.
The blood is removed from a vein from the DUI suspect. It must be removed by a qualified technician. Then the sample must be properly identified, handled, transported, tested, and then the test results must be accurately reported. Each of these steps leaves open the opportunity for errors to occur. In most cases the police will not tell the prosecutor of these errors. And if the prosecutor knows of these errors he may not inform the court of these errors. As a former DUI prosecutor, Michael Kraut has inside knowledge of where the errors may occur in the testing.
How Is Your DUI Blood Sample Tested?
After the sample is taken, it is placed into a container with special chemicals inside. These chemicals stop the blood from clotting and preserve the sample until it can be tested. Very technical tests are run on the blood using one of three methods. The results are then returned to the law enforcement agency that requested the blood draw.
How You Can Attack the Results of the Blood Test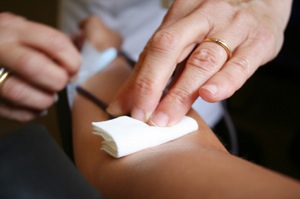 Many people think that the removal, handling and testing of the blood sample is infallible. This is not true. However, of all of the testing methods, blood is the most reliable. But this does not mean that they are infallible. Lack of a sterile atmosphere, improper or a lack of preservatives, or a failure to refrigerate the sample at the correct temperatures may result in inaccurate results.
In some cases, the police rush to get a sample and the person drawing the blood is not properly licensed and trained. Or they use alcohol on the skin immediately prior to taking the sample thus contaminating the blood. Afterward, the blood vial must be handled properly. On busy nights, law enforcement may arrest multiple suspects. In those instances multiple DUI blood samples from different suspects increases the risk that samples are "mixed-up." The prosecution must also be able to prove the "chain of custody" of the evidence to ensure that no mistakes were made. Finally, the prosecution must prove that the machines were calibrated and working properly and that the blood sample was of a sufficient amount to test.
If you have been arrested or charged with a DUI offense in the Los Angeles or Southern California area, Michael Kraut understands the serious nature of this offense and the defenses to this charge, how best to defend you and resolve your case without you going to jail. Mr. Kraut has extensive knowledge of the law and the legal system. He has developed excellent relationships with law enforcement and law officials throughout the Los Angeles and Southern California.
For more information about the various defenses for your DUI case, and to schedule your free consultation contact Michael Kraut at the Kraut Law Group. Mr. Kraut can be reached 24/7 at 888-334-6344 or 323-464-6453.
DUI Process & Law
DUI Crime & Evidence
Court & DMV License Suspension / Resources
Client Reviews
He gave me the peace of mind that my DUI case was going to be resolved. He fought for what it was needed and helped me by answering all my questions. Mike is not an average attorney. He's a very experienced, honest and straightforward person that is there for you!
I hired Attorney Mike Kraut and I'm am so happy and grateful that I did! I was arrested for a DUI because my BAC level was over the .08 limit. I ended up getting a wet and reckless instead of a DUI. I still have to do some classes and I'm on probation, but I do not have a DUI on my record. If you have a DUI hire Attorney Kraut, he definitely knows his stuff!
There aren't enough positive words to write about Mike, but let me be clear that this is the only lawyer worth hiring in Los Angeles. Mike is professional, caring, and an absolute champion at winning in court.
Mike Kraut is not a typical lawyer. He is a straightforward person with a true heart and a sympathetic ear. He is also smart and connected and he cares about the people who seek out his help. He got my son out of a jam. He did it quickly and painlessly. I recommend Mike Kraut to anyone that needs his services.
Thank you Mike for helping my son.
Michael Kraut is a rock star lawyer. I was really happy and satisfied with the results I received from Michael and his team. A few months back I was being accused of a serious felony. Mike gave me sound legal advice and worked diligently to clear my name. Mike was great at always keeping me updated and returning calls. Great, great lawyer I cant say enough about this man!
How can I express how relieved and pleased I am with Michael's professional abilities to have my Felony brought down to a misdameanor to a possible dismissal with deferment. With his care my life has been turned around and cannot say how helpful he's been not only in my case but life. He, himself has changed how I view criminal lawyers. Thank you so much Michael!