Domestic Violence Criminal Cases and Domestic Violence Restraining Orders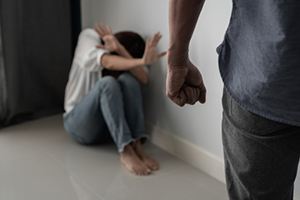 A defendant facing domestic violence allegations in California may be required to simultaneously fight the allegations on two fronts – criminal court and civil court. In criminal court, the defendant may face felony or misdemeanor charges depending on the circumstances surrounding the specific allegations. If the complaining witness files a petition for a domestic violence restraining order, that matter will be taken up in civil court. In both cases, the defendant will be required to defend against the same allegations. A misstep in one matter could have far-reaching consequences in the other, underscoring the importance of needing to effectively navigate both matters.
Domestic Violence
There are many laws in California concerning domestic violence, which cover a wide variety of circumstances between individuals considered to have a domestic relationship. This includes but is not limited to the type of physical contact, such as battery, Penal Code section 242-243(e)(1) and simple assault, Penal Code section 240-241(a), whether there was an injury, Penal Code section 273.5(a). Depending on the circumstances, domestic violence can be charged as a misdemeanor or felony.
Domestic Violence Restraining Order
The Domestic Violence Prevention Act constitutes Division 10 of the California Family Code and provides the mechanism and procedure for domestic violence restraining orders. The petitioner must prove that the respondent (person whom they filed the restraining order against) has abused them and/or their family members. If granted, a domestic violence restraining order would prohibit the respondent from having contact with the petitioner and possibly their family members. The exact conditions, including specific restrictions and length of the orders, will depend on the facts and circumstances of the particular case.
Once a petition for a domestic violence restraining order is filed, the Court will decide whether to issue a temporary restraining order until a hearing on the matter is held. If a permanent domestic violence restraining order is granted after a hearing, such an order may have wide-reaching consequences on the respondent. For instance, the respondent would be prohibited from owning or possessing a firearm, and the order will be entered into the CLETS, the California Law Enforcement Telecommunications System, a computer network that gives law enforcement access to a national database.
Effect of the Civil Action on the Criminal Case
A defendant has a constitutional right under the Fifth Amendment to remain silent and not incriminate themselves in his criminal proceeding. This right does not extend to civil lawsuits, such as a civil restraining order matter. As such, a dilemma arises when a defendant's criminal case and civil restraining order matter are intertwined.
On the other hand, a defendant can potentially use the domestic violence restraining order matter to his or her advantage in the criminal case and vice versa, which is why it is imperative that they seek out the best defense.
If you or a family member has been charged with or is being investigated for domestic violence or has been served with a domestic violence restraining order in Los Angeles, Orange County, Riverside County, San Bernardino County, or Ventura County, it is imperative that you hire the best attorney that you can to handle these matters. As a former Deputy District Attorney with over 14 years of prosecutorial experience, Los Angeles Criminal Defense Attorney Michael Kraut knows how to effectively defend clients who have been accused of felony and misdemeanor level domestic violence offenses and in domestic violence restraining order matters.
For more information about all types of domestic violence crimes and restraining orders and to schedule your free consultation, contact attorney Michael Kraut at the Kraut Law Group located at 6255 Sunset Boulevard, Suite 1520, Los Angeles, CA 90028. Mr. Kraut can be reached 24/7 at 888-334-6344 or 323-464-6453.