California Penal Code Section 240 PC: Assault
1. Definition and Elements of the Crime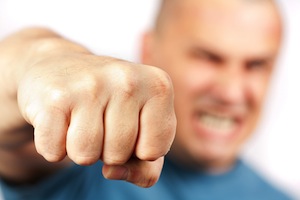 The crime of assault under California Penal Code Section 240 PC is often described as an "attempted battery" involving an attack or threatened attack on another that does not result in physical contact, injury or harm.
To prove a defendant committed the crime of assault, a prosecutor must establish the following elements:
The defendant committed an act that by its nature would directly and most likely result in the application of force on another person.
The defendant acted intentionally.
When the defendant acted, he or she was aware of facts that would cause a reasonable person to realize that their act would directly and probably result in the application of force to another
AND when the defendant acted, he or she had the present ability to use force on a person.
The term "application of force" is a touch that is harmful or offensive in nature. The slightest touching can be enough to violate the statute if it is done in a rude or angry way. Making contact with another person, even through clothing, is enough. The touching does not have to cause pain or injury.
No one needs to actually have been injured, or even touched, by the act for the defendant to be guilty of assault. There is no such crime as "attempted assault" in California
2. Examples
After a sporting event, a drunken man approaches a rival fan and begins to throw punches wildly. None of the punches connect due to his intoxicated state, however this man could still be charged with assault, as his actions constitute an illegal attempt to use harmful force on another person.
In another example, a paralyzed man in a wheelchair gets angry at his neighbor and threatens to punch and kick this him, among other violent crimes. This man could not be prosecuted for assault because he lacked the present ability to commit the acts threatened.
3. Related Offenses
Other similar or related offenses include:
4. Defenses to Assault
In California, a person is allowed to fight back and defend themselves if they reasonable believe they are about to be hurt by another. If this person is subsequently charged with an assault charge, he or she would have a valid self defense claim.
Additionally, because assault is a criminal offense that usually does not result in injuries or other physical evidence, it is an offense that is may be charged as a result of a false accusation made by a "victim" hoping to cause trouble for the defendant.
5. Penalties
Under California Penal Code Section 240 PC, assault is a misdemeanor offense that can be punished by up to six months in jail, substantial court fines, anger management classes or other programming and community service or community labor requirements.
6. Criminal Defense for Assault Cases
If you or a loved one have been arrested for or charged with assault, it is important that you speak with an experienced Los Angeles Criminal Defense Attorney immediately. An assault conviction on one's criminal record can be a major deterrent to employers, future landlords or anyone else performing a criminal background check. As a former Deputy District Attorney with over 14 years of prosecutorial experience, Los Angeles Criminal Defense Attorney Michael Kraut has dealt with assault cases as both a prosecutor and a defense attorney. Mr. Kraut understands how best to combat allegations of this nature in order to help his client avoid jail and unnecessary convictions. Mr. Kraut works hard for his clients to ensure that they get the best defense possible.
For more information about assault charges, and to schedule your free consultation, contact Los Angeles Criminal Defense Attorney Michael Kraut at the Kraut Law Group located at 6255 Sunset Boulevard, Suite 1520, Los Angeles, CA 90028. Mr. Kraut can be reached 24/7 at 888-334-6344 or 323-464-6453.