Underage DUI Information for Parents in Los Angeles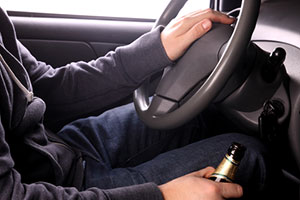 For many parents, learning that their child has been arrested for or charged with driving under the influence can be both frightening and infuriating. Law enforcement agencies tend to target younger drivers, especially at night and on weekends. In addition, many teenagers and young adults often make poor decisions, especially after experimenting with alcohol. A conviction for DUI can have long-lasting effects on a young person's life and it is important for parents to understand the process and what their child may ultimately face.
Law Enforcement Pays Special Attention to Underage Drivers
Even though law enforcement officers tend to pay special attention to vehicles driven by young people, especially those who are in large groups driving late at night, an officer must have reasonable or probable cause in order to pull over a vehicle. This means that an officer cannot simply stop a vehicle because he or she suspects the driver may be drunk. The officer must be able to point to an objective and articulable basis for the vehicle stop. This is usually an observed violation of the Vehicle Code. If the officer lacked sufficient reasonable or probable cause to pull over the vehicle, the defendant may be able to challenge the basis of the vehicle stop. If the defense is successful, the judge will suppress all resulting DUI evidence stemming from the unlawful stop and the prosecution will likely be unable to go forward with its case.
Underage drivers may be subject to greater scrutiny during a DUI investigation. It is important to remember that while most adult drivers can lawfully refuse to provide a breath sample on a preliminary alcohol sensor ("PAS") device, drivers who are under the age of 21 must provide a breath sample on the PAS device when requested. This is in addition to the requirement that the driver submit to either a blood test or a breath test on a stationary Breathalyzer machine once he or she has been lawfully arrested.
Underage DUI is Subject to Scrutiny
While the threshold BAC for DUI under California Vehicle Code Section 23152 VC is 0.08 percent, underage drivers can face serious consequences if they have any measurable amount of alcohol in their system. If a driver under the age of 21 is found to have a BAC of 0.01 percent or higher, the officer can forward the information to the California DMV who can issue a one year driver's license suspension pursuant to California Vehicle Code Section 23136 VC. The driver can request an administrative hearing to contest the license suspension. If the DMV ultimately finds that the suspension is valid, the minor's license will be suspended for a full year during which he or she would not be eligible for a restricted license. This is especially difficult for young people who are in college or who are working and need to drive. If the driver did not have a license at the time of the offense, he or she would face a one year delay in getting a driver's license.
Underage DUI with High BAC
Drivers who are under the age of 18 and who arrested for driving with a BAC of 0.08 percent or higher or under the influence of drugs can have the matter handled in juvenile court. Even though the juvenile record would be sealed, juvenile judges can come down hard on youthful DUI offenders and may require onerous terms of juvenile probation. Parents would be required to attend any juvenile court proceeding with their child.
If your child has been arrested for a DUI offense, it is absolutely critical that you meet with a Los Angeles DUI Lawyer immediately. As a former Deputy District Attorney with over 14 years of prosecutorial experience, Attorney Michael Kraut understands how to effectively defend youthful DUI offenders.
For more information about Los Angeles DUI information for parents, and to schedule your free consultation, contact Michael Kraut at the Kraut Law Group located at 6255 Sunset Boulevard, Suite 1520, Los Angeles, CA 90028. Mr. Kraut can be reached 24/7 at 888-334-6344 or 323-464-6453.