What Happens When a Driver and Passenger Switch Seats in a DUI?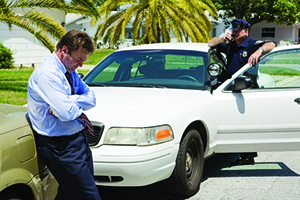 In California, it is illegal to drive a vehicle while under the influence of drugs or alcohol. In most situations, it is not illegal to be a passenger in a vehicle driven by a DUI driver, even if the passenger is also intoxicated. In some cases, the driver of a vehicle may try to switch seats with the passenger in order to help the driver avoid a DUI charge. This may occur where the passenger is sober or where the driver has a prior DUI or is on probation and would face stiff consequences if charged with a new DUI offense. While many drivers and passengers may attempt a switch to fool law enforcement, this rarely works and in some situations can lead to additional criminal charges being filed against both parties in the vehicle.
Why Would People Switch Seats
There are a number of reasons why a driver would want to switch seats with his or passenger. The driver may be much more intoxicated than the passenger and both parties may believe that the passenger would be more likely to pass field sobriety tests or a Breathalyzer. The driver may have a prior DUI conviction or may be on probation and would want to avoid any new criminal case. In other cases, the driver may be concerned about his or her immigration status or other factors unrelated to the driving conduct.
What Happens When a Driver and Passenger Switch Seats
If an officer pulls over a vehicle, he or she will be watching the driver closely throughout the vehicle stop. If the driver and passenger attempt to change seats, this usually will not go undetected. In addition, the officer may consider this to be "furtive movements" that would increase the officer's suspicion that there is criminal activity occurring. Even if the officer is not paying close attention, many patrol vehicles are equipped with video recording devices that record all traffic stops. Any review of the video would likely show the driver and passenger switching seats.
Switching Seats After a Collision
In some cases involving traffic collisions, the driver and passenger may switch seats after the collision or later falsely tell officers that the driver was, in fact, the passenger of the vehicle. Accident investigators will typically look to see if the accounts provided by the driver and passenger are consistent with the physical evidence. Despite what the parties claim, the officer may be able to determine who the driver is by looking at physical evidence in the collision and any injuries that may have been suffered.
In addition, even if an officer was not present during a collision, there are usually witnesses who will provide detailed accounts of what happened. If the disinterested witness statements indicate that there was a switch, the officer will likely arrest the original driver.
Penalties for Switching Seats
Drivers and passengers who switch seats may expose themselves to criminal liability beyond DUI charges. If the driver and passenger lie to the police about who was driving, both parties can be charged with providing false information to a peace officer in violation of California Vehicle Code Section 31 VC. In addition, if this false account is used as part of an insurance claim, both the passenger and defendant can potentially be charged with insurance fraud or even perjury, both of which are felony-level offenses.
If you or a loved one have been charged with DUI, it is crucial that you discuss your case with an experienced DUI lawyer as soon as possible. As a former Deputy District Attorney with over 14 years of prosecutorial experience, Michael Kraut is well-known throughout the court system as a tough litigator who understands how to effectively fight DUI cases.
For more information about DUI drivers and passengers, and to schedule your free consultation, Mr. Kraut can be reached 24/7 at 888-334-6344 or 323-464-6453.