California Vehicle Code Section 23136 VC: Under 21 DUI With Any Measusable Amount Of Alcohol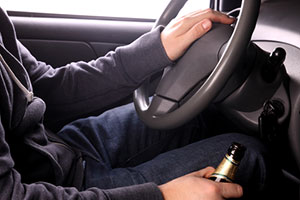 1. Definition and Elements of the Offense
California takes a "zero tolerance" position when it comes to drivers under the age of 21 who drink alcohol. As a result, any person under 21 who engages in this activity risks losing his or her license for a full year.
Driving with a BAC over 0.01 percent while under the age of 21 in Los Angeles is an offense that only carries civil penalties relating to one's driver's license as governed by the DMV. In order to violate this statute, the following factors must be present:
The driver was under 21 years old
At the time of driving, the driver had a blood alcohol content of 0.01 percent or higher as measured by a chemical test or PAS device
The test was incidental to a lawful detention and administered by a peace officer who had reasonable cause to believe that driver had consumed alcohol.
Unlike most DUI offenses, the results of the PAS test are sufficient on their own to justify a license suspension. Failure to submit to chemical testing or testing on a PAS device will result in a license suspension from one to three years. This is because a driver under 21 in California is deemed to have consented to have his or her breath tested if lawfully detained under suspicion of DUI.
Depending on the driver's blood alcohol content, there could be criminal charges of DUI, driving with a blood alcohol content of 0.08 or higher, or under 21 DUI with a blood-alcohol content between 0.05 and 0.07 percent in addition to allegations pursuant to California Vehicle Code Section 23136 VC.
2. Related Offenses
Similar offenses include the following:
Driving with a blood alcohol content of 0.08 percent or higher - California Vehicle Code Section 23152(b) VC
3. Examples
A man goes out for his 20th birthday to celebrate with friends. During the night he has one beer but is not intoxicated. While driving home, he passes through a DUI checkpoint and is asked to provide a breath sample on a PAS device. The PAS device shows that the man's blood alcohol content is 0.02 percent. This man could lose his license for a year even though he was not impaired.
4. Defenses to Under 21 Driving with Any Measurable Amount of Alcohol
The DMV will only suspend a license where the officer had reasonable cause to stop a driver and request a breath sample. Thus if the officer did not have sufficient probable cause to justify stopping or testing the driver, the suspension would be set aside.
Additionally, an effective Los Angele DUI attorney will investigate and examine calibration and maintenance records for the PAS device or other means of chemical testing. Because the threshold for license suspension is so low, a PAS device that is even slightly miscalibrated may throw off the reliability of the test results. Also, because the blood alcohol content is so low under the statute, items such as mouthwash or medications may show up on the test. In these cases, an effective Los Angeles DUI attorney can show a DMV hearing officer how the test results may not be reliable or may be caused by something other than alcohol consumption.
5. Penalties
Those under 21 who have a BAC greater than 0.01 percent risk losing their driving privileges for a year or face a one-year delay in obtaining a driver's license if they do not already have one. Because this is a civil penalty, and not a criminal offense, this suspension would automatically take effect unless the driver requests a DMV administrative hearing to challenge his or her suspension. If the driver refuses testing, he or she can have their license suspended from one to three years.
6. Defense for Under 21 with Any Measurable Amount of Alcohol
If you or a family member have been cited for driving with any measurable amount of alcohol while under 21, it is critical that you contact a Los Angeles DUI attorney as soon as possible, as there is a very limited time in which one can challenge the suspension. Los Angeles DUI Attorney Michael Kraut is a former Deputy District Attorney with over 14 years of prosecutorial experience who knows how to effectively fight DUI cases and suspensions with the DMV. Mr. Kraut understands how important it is to keep one's driver's license and works hard to help his clients avoid this penalty.
For more information about driving with any measurable amount of alcohol while under 21, and to schedule your free consultation, contact Los Angeles DUI Attorney Michael Kraut at the Kraut Law Group located at 6255 Sunset Boulevard, Suite 1520, Los Angeles, CA 90028. Mr. Kraut can be reached 24/7 at 888-334-6344 or 323-464-6453.