What Is an Officer Looking for During the Horizontal Gaze Nystagmus Test?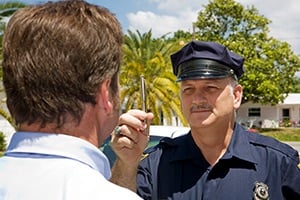 When an officer is investigating a driver who is suspected of DUI, there are a number of tests that are conducted. One test that is conducted in nearly all DUI investigations is the horizontal gaze nystagmus test. During this test, the officer will examine a driver's eyes while asking him or her to follow a pen or other fixed object as it is moved left and right. Drivers often want to know what an officer is looking for during this test.
What is Nystagmus?
Nystagmus refers to involuntary eye movements or twitches. Nystagmus occurs when a person looks to the side and the eye moves beyond a 45 degree angle. However, for drivers who are under the influence of alcohol, nystagmus occurs at angles less than 45 degrees. The early onset of nystagmus during the horizontal gaze nystagmus test can be used as evidence that the driver is under the influence of alcohol and may provide probable cause for a DUI arrest.
How is the Horizontal Gaze Nystagmus Test Administered?
The National Highway Traffic Safety Administration ("NHTSA") recognizes the horizontal gaze nystagmus test as a reliable field sobriety test when performed by an officer who has received proper training. During this test, an officer will face the test subject and place a stationary object, such as a pen, flashlight or the officer's finger in front of the test subject's face. The test subject is asked to follow the stationary point as it is moved left and right. The officer will be paying attention to the angle at which the onset of nystagmus occurs.
In some cases, the investigating officer may perform the vertical gaze nystagmus test. Vertical nystagmus is often associated with high doses of alcohol and with certain drugs. During this test, the officer will move an object up and will be looking for certain eye twitches that occur when the eye gazes upwards at a maximum elevation. This test may be performed where the driver is suspected of driving under the influence of drugs.
The officer will be looking for certain clues in each eye. The officer will note whether the eye moves smoothly or whether there is a noticeable jerk, which is indicative of alcohol intoxication. The officer will also be looking to see if the test subject's eyes jerk when they are moved to the side as far as possible and will be looking to see if the test subject's eye begins to jerk before reaching a 45 degree angle.
Challenging the Horizontal Gaze Nystagmus Test
The horizontal gaze nystagmus test relies on an officer's close observations of minute eye movements that occur at certain angles. While an officer will receive training in performing this test, the officer is not a trained medical professional and may not be able to recognize certain conditions that may cause nystagmus in sober people. It may be necessary to present a medical expert in court who can describe how the defendant's nystagmus was caused by an unrelated condition and not by excessive alcohol consumption.
In many cases, the horizontal gaze nystagmus test may be recorded on an officer's dashcam device or on his or her body-worn camera. These recordings may be obtained through the DUI discovery process and the defendant's attorney can determine whether the officer properly followed procedure when performing the horizontal gaze nystagmus test.
If you have been arrested for or charged with DUI, it is imperative that you meet with an experienced DUI attorney right away. Michael Kraut is a former Deputy District Attorney with over 14 years of prosecutorial experience who is highly regarded as a top-rated DUI lawyer who fights hard on behalf of his clients.
For more information about DUI and the horizontal gaze nystagmus test, and to schedule your free consultation, contact Michael Kraut. He can be reached 24/7 at 888-334-6344 or 323-464-6453.
Client Reviews
He gave me the peace of mind that my DUI case was going to be resolved. He fought for what it was needed and helped me by answering all my questions. Mike is not an average attorney. He's a very experienced, honest and straightforward person that is there for you!
I hired Attorney Mike Kraut and I'm am so happy and grateful that I did! I was arrested for a DUI because my BAC level was over the .08 limit. I ended up getting a wet and reckless instead of a DUI. I still have to do some classes and I'm on probation, but I do not have a DUI on my record. If you have a DUI hire Attorney Kraut, he definitely knows his stuff!
There aren't enough positive words to write about Mike, but let me be clear that this is the only lawyer worth hiring in Los Angeles. Mike is professional, caring, and an absolute champion at winning in court.
Mike Kraut is not a typical lawyer. He is a straightforward person with a true heart and a sympathetic ear. He is also smart and connected and he cares about the people who seek out his help. He got my son out of a jam. He did it quickly and painlessly. I recommend Mike Kraut to anyone that needs his services.
Thank you Mike for helping my son.
Michael Kraut is a rock star lawyer. I was really happy and satisfied with the results I received from Michael and his team. A few months back I was being accused of a serious felony. Mike gave me sound legal advice and worked diligently to clear my name. Mike was great at always keeping me updated and returning calls. Great, great lawyer I cant say enough about this man!
How can I express how relieved and pleased I am with Michael's professional abilities to have my Felony brought down to a misdameanor to a possible dismissal with deferment. With his care my life has been turned around and cannot say how helpful he's been not only in my case but life. He, himself has changed how I view criminal lawyers. Thank you so much Michael!