Veterans and the Law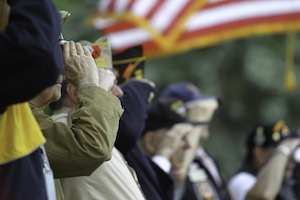 People who have served in the military have often been exposed to experiences that the general public may never fully appreciate or understand. Unfortunately, many of the service men and women who serve in the military experience a great deal of difficulty when transitioning back to civilian life. These veterans may suffer from Post-traumatic Stress Disorder ("PTSD"), may have been the victim of sexual trauma or may develop drug or alcohol addictions. As a result, many of these veterans may also find themselves being charged with or accused of crimes. However, in the Los Angeles area there are a number of programs and alternatives for veterans that may help to avoid a criminal conviction.
In many cases, individuals who have been charged with criminal offenses are veterans who struggle with PTSD or other afflictions. The veteran may have developed a drug or alcohol addiction and may find themselves charged with crimes like drunk in public in violation of California Penal Code Section 647(f) PC, driving under the influence in violation of California Vehicle Code Section 23152(a) VC and California Vehicle Code Section 23152(b) VC or possession of a controlled substance pursuant to California Health & Safety Code Section 11350 HSC, among others. However, the Courts and legislature have recognized that veterans deal with unique issues and have enacted laws that apply specifically to veterans who have been charged with criminal offenses.
The California legislature has recently enacted a law that is designed to help veterans who have been charged with misdemeanor level crimes. Under California Penal Code Section 1001.80 PC, a veteran who has been charged with a misdemeanor offense may be eligible for diversion where
(1)The defendant was, or currently is, a member of the United States military.

AND

(2)The defendant may be suffering from sexual trauma, traumatic brain injury, post-traumatic stress disorder, substance abuse, or mental health problems as a result of his or her military service. The court may request, using existing resources, an assessment to aid in the determination.
The defendant would then enter into a diversion program and prosecution of the defendant would be suspended for a period between six months and two years. During this period, the defendant would be expected to receive treatment for his or her underlying problems and would be expected to complete all relevant programming. If the defendant successfully completes the diversion program, the arrest of the defendant will be deemed to never have occurred and the defendant could indicate in response to a question regarding prior criminal history that he or she was not arrested or diverted for a criminal offense (unless asked as part of an application for a law enforcement position).
Unlike other diversion programs, veteran's diversion would not require a plea of guilty or no contest in order for veterans to take advantage of this program.
For veterans who have been charged with felony offenses, there may be alternatives available as well. Los Angeles is one of twelve counties in California that runs a Veteran's Court designed specifically for military veterans who suffer from PTSD, addiction, traumatic brain injury or other afflictions. Defendants charged with certain crimes may be able to have their case transferred to Veteran's Court.
Veteran's Court works closely with the Veteran's Administration and can help ensure that the defendant has access to necessary services and programs and can monitor the defendant's progress. In Veteran's Court, the defendant is expected to make regular court appearances at which the judge will closely monitor the defendant's progress. If the defendant is not keeping up with his or her requirements, he or she can be sentenced on the original felony charge. Typically, only those who have been charged with non-serious and nonviolent felonies and who do not have any strikes offenses on their criminal record will be eligible for Veteran's Court. However, exceptions can be made depending on the defendant's background and circumstances.
If you or a loved one are a veteran who has been charged with a criminal offense, it is critical that you meet with a Los Angeles Criminal Defense Attorney right away. Los Angeles Criminal Defense Lawyer Michael Kraut is a former Deputy District Attorney with over 14 years of prosecutorial experience who is highly knowledgeable about the various programs and laws specific to military veterans.
For more information about Los Angeles veterans and the law, and to schedule your free consultation, contact Los Angeles Criminal Defense Attorney Michael Kraut at the Kraut Law Group located at 6255 Sunset Boulevard, Suite 1480, Los Angeles, CA 90028. Mr. Kraut can be reached 24/7 at 888-334-6344 or 323-464-6453.
Client Reviews
He gave me the peace of mind that my DUI case was going to be resolved. He fought for what it was needed and helped me by answering all my questions. Mike is not an average attorney. He's a very experienced, honest and straightforward person that is there for you!
I hired Attorney Mike Kraut and I'm am so happy and grateful that I did! I was arrested for a DUI because my BAC level was over the .08 limit. I ended up getting a wet and reckless instead of a DUI. I still have to do some classes and I'm on probation, but I do not have a DUI on my record. If you have a DUI hire Attorney Kraut, he definitely knows his stuff!
There aren't enough positive words to write about Mike, but let me be clear that this is the only lawyer worth hiring in Los Angeles. Mike is professional, caring, and an absolute champion at winning in court.
Mike Kraut is not a typical lawyer. He is a straightforward person with a true heart and a sympathetic ear. He is also smart and connected and he cares about the people who seek out his help. He got my son out of a jam. He did it quickly and painlessly. I recommend Mike Kraut to anyone that needs his services.
Thank you Mike for helping my son.
Michael Kraut is a rock star lawyer. I was really happy and satisfied with the results I received from Michael and his team. A few months back I was being accused of a serious felony. Mike gave me sound legal advice and worked diligently to clear my name. Mike was great at always keeping me updated and returning calls. Great, great lawyer I cant say enough about this man!
How can I express how relieved and pleased I am with Michael's professional abilities to have my Felony brought down to a misdameanor to a possible dismissal with deferment. With his care my life has been turned around and cannot say how helpful he's been not only in my case but life. He, himself has changed how I view criminal lawyers. Thank you so much Michael!