Lie Detector Tests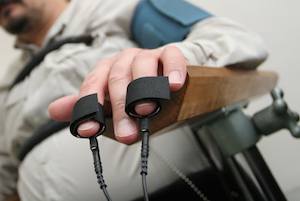 Many defendants who have been accused of felony or misdemeanor offenses often inquire about lie detector tests and whether taking one may aid in their defense. These tests, also known as polygraph tests, can be controversial as experts disagree about how effective they are. However, there may be circumstances where someone who has been charged with or is under investigation for a criminal offense may want to take a polygraph test. If you are considering taking a lie detector test, it is very important that you first consult with a Los Angeles Criminal Defense Attorney who has worked with top polygraph administrators in the past and understands how best to handle this avenue of defense.
A polygraph is an electrical device that can measure minute changes in an individual's pulse, breathing, blood pressure and perspiration. Studies have shown that telling a lie is a stressor that will cause an individual to experience certain biological reactions associated with stress. If the individual tested shows signs of stress when answering certain questions, this may be an indication that he or she is not being truthful.
Many experts disagree about how accurate the polygraph test really is. Some believe that the polygraph test can determine whether someone is lying 90 percent of time. However, others have suggested that this number is far lower; and that the test is only 60 percent accurate. Some people may suffer from anxiety or may find the testing process to be extremely stressful and may appear to be untruthful on a polygraph when in fact they are telling the truth.
Because of the uncertainties regarding lie detector tests, these tests are considered inadmissible as evidence unless both the prosecution and the defense agree that the test results can be admitted. This rule also applies to the opinion of a polygraph examiner and whether or not a defendant refused to take a test when offered or offered to take a test.
Even though polygraph tests are usually not admissible in court, this does not stop the prosecution or defense from using these tests. It is not unusual for prosecutors or defense attorneys to have defendants or witnesses voluntarily take lie detector tests. If the prosecution does have polygraph tests conducted on witnesses, they must disclose the results of the test to the defense as part of the discovery process. Even if the results cannot be used in court, the prosecution is required to disclose test results showing that one of its witnesses may have been lying.
In some situations, it can be helpful to have the defendant voluntarily submit to a polygraph test, even knowing that the results are not admissible in court. If a polygraph test shows that a defendant is being truthful when he or she denies criminal liability, the prosecutor may reconsider filing criminal charges. There are many polygraph examiners who provide testing services for those accused of crimes. Many of these examiners have experience working in law enforcement and have excellent reputations in the legal community.
If the defendant takes a polygraph test before charges have been filed or before the case goes to trial, the results of this test can be presented to the prosecutor. Even though these test results may not be admissible in court, the prosecutor has a duty to seek justice and may give serious consideration to a defendant's polygraph results. If the prosecutor believes that the defendant is not guilty of the crime charged, he or she may dismiss the charges altogether. The prosecutor may want to speak with the polygraph examiner, examine the full test results or see a video of the test to ensure that the test was conducted according to the proper procedure. In some cases, the prosecutor may want the defendant to take the test again using an examiner selected by the prosecutor.
If you have been charged with a crime or are currently under investigation, it is very important that you discuss your case with a Los Angeles Criminal Defense Lawyer as soon as possible. As a former Deputy District Attorney with over 14 years of prosecutorial experience, Los Angeles Criminal Defense Attorney Michael Kraut works with the top polygraph examiners in the area and understands how to effectively use these tests when defending his clients.
For more information about Los Angeles lie detector tests, contact Los Angeles Criminal Defense Attorney Michael Kraut at the Kraut Law Group located at 6255 Sunset Boulevard, Suite 1480, Los Angeles, CA 90028. Mr. Kraut can be reached 24/7 at 888-334-6344 or 323-464-6453.
Client Reviews
He gave me the peace of mind that my DUI case was going to be resolved. He fought for what it was needed and helped me by answering all my questions. Mike is not an average attorney. He's a very experienced, honest and straightforward person that is there for you!
I hired Attorney Mike Kraut and I'm am so happy and grateful that I did! I was arrested for a DUI because my BAC level was over the .08 limit. I ended up getting a wet and reckless instead of a DUI. I still have to do some classes and I'm on probation, but I do not have a DUI on my record. If you have a DUI hire Attorney Kraut, he definitely knows his stuff!
There aren't enough positive words to write about Mike, but let me be clear that this is the only lawyer worth hiring in Los Angeles. Mike is professional, caring, and an absolute champion at winning in court.
Mike Kraut is not a typical lawyer. He is a straightforward person with a true heart and a sympathetic ear. He is also smart and connected and he cares about the people who seek out his help. He got my son out of a jam. He did it quickly and painlessly. I recommend Mike Kraut to anyone that needs his services.
Thank you Mike for helping my son.
Michael Kraut is a rock star lawyer. I was really happy and satisfied with the results I received from Michael and his team. A few months back I was being accused of a serious felony. Mike gave me sound legal advice and worked diligently to clear my name. Mike was great at always keeping me updated and returning calls. Great, great lawyer I cant say enough about this man!
How can I express how relieved and pleased I am with Michael's professional abilities to have my Felony brought down to a misdameanor to a possible dismissal with deferment. With his care my life has been turned around and cannot say how helpful he's been not only in my case but life. He, himself has changed how I view criminal lawyers. Thank you so much Michael!