Extradition From California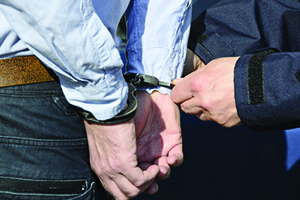 There are often instances where a person commits a felony offense in one state and either fails to appear in court or is charged with violating probation or parole. If that person is in California, the home state would have to request extradition from California before the defendant is entitled to relief. The local prosecutor in California would file a case under California Penal Code Section 1551 PC regarding the extradition of the defendant and the defendant may be held without bail in California while the extradition matter is resolved. The extradition request may come as a complete surprise to the defendant and having an attorney experienced in handling extradition matters in California is highly recommended.
The Extradition Process
When a defendant has been charged with a crime, probation violation or parole violation a warrant will issue and this warrant will be entered into a national law enforcement database. Anytime that the defendant is stopped and run through the database, local law enforcement would learn about the existence of the out-of-state warrant. In California, the defendant will be arrested as a fugitive and held without bail. The local prosecuting authority will present the case for extradition and the defendant will go to court. The defendant can either waive extradition or can challenge the extradition and request a Governor's Warrant.
If the defendant waives extradition, the case will be continued for 30 days to give the defendant's home state an opportunity to pick up the defendant. This 30 days can be extended days at the judge's discretion if the defendant has not been picked up within the time period provided.
The defendant can file a writ of habeus corpus, however this will toll the 30 days. If the defendant does not waive extradition, the prosecutor would have to obtain a Governor's Warrant from the defendant's home state.
Representation During the Extradition Process
The defendant may have grounds to fight the extradition process and not to enter a waiver of extradition. In rare cases, the defendant may not be the same person as described in the warrant. This can happen with defendants who were the victims of identity theft in another state or those who have very common names. In these cases, the defense may be able to present evidence showing that the defendant is not the person described in the warrant and the accused fugitive may be released on bond or OR pending the resolution of this matter.
In other cases, the defendant's extradition attorney may be able to coordinate efforts with an attorney or with prosecutorial authorities in the charging state. The "home state" may be willing to drop the warrant on the defendant's written promise to appear or the state may be willing to dismiss the case entirely. If this were the case, the California extradition matter will typically be dismissed and the defendant would be released. In other cases, the defendant may file a writ of habeus corpus challenging the warrant. This may be granted if it can be shown that the defendant was not present in the home state when the offense allegedly occurred or that the defendant was denied a fundamental Constitutional right.
If you or a loved one have been arrested in California as a fugitive and are being held pending extradition, it is imperative that you speak with an experienced criminal defense attorney as soon as possible. As a former Deputy District Attorney with over 14 years of prosecutorial experience, Michael Kraut is highly regarded throughout the court system as a dedicated litigator who fights hard on behalf of his clients. In many extradition cases, Mr. Kraut's efforts have led to warrants being dropped and the defendant being released.
For more information about extradition, and to schedule your free consultation, Mr. Kraut can be reached 24/7 at 888-334-6344 or 323-464-6453. You can also set up a free initial consultation using our online contact form.
Client Reviews
He gave me the peace of mind that my DUI case was going to be resolved. He fought for what it was needed and helped me by answering all my questions. Mike is not an average attorney. He's a very experienced, honest and straightforward person that is there for you!
I hired Attorney Mike Kraut and I'm am so happy and grateful that I did! I was arrested for a DUI because my BAC level was over the .08 limit. I ended up getting a wet and reckless instead of a DUI. I still have to do some classes and I'm on probation, but I do not have a DUI on my record. If you have a DUI hire Attorney Kraut, he definitely knows his stuff!
There aren't enough positive words to write about Mike, but let me be clear that this is the only lawyer worth hiring in Los Angeles. Mike is professional, caring, and an absolute champion at winning in court.
Mike Kraut is not a typical lawyer. He is a straightforward person with a true heart and a sympathetic ear. He is also smart and connected and he cares about the people who seek out his help. He got my son out of a jam. He did it quickly and painlessly. I recommend Mike Kraut to anyone that needs his services.
Thank you Mike for helping my son.
Michael Kraut is a rock star lawyer. I was really happy and satisfied with the results I received from Michael and his team. A few months back I was being accused of a serious felony. Mike gave me sound legal advice and worked diligently to clear my name. Mike was great at always keeping me updated and returning calls. Great, great lawyer I cant say enough about this man!
How can I express how relieved and pleased I am with Michael's professional abilities to have my Felony brought down to a misdameanor to a possible dismissal with deferment. With his care my life has been turned around and cannot say how helpful he's been not only in my case but life. He, himself has changed how I view criminal lawyers. Thank you so much Michael!