Sentencing Hearings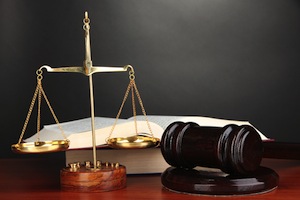 After a defendant has been convicted of a felony or misdemeanor offense, the Court will sentence the defendant. Sentencing may occur at the time the defendant pleads guilty or no contest or following a guilty verdict being returned by the jury or judge after a trial. Sentencing may occur immediately after the conviction has been entered or it may be set for a later date. Both the prosecution and defense are given an opportunity to present arguments about what the defendant's sentence should or should not require and in some the cases the Court may hold a full hearing with witnesses testimony before imposing sentence.
Someone who has been convicted of a misdemeanor is entitled to be sentenced not less than six hours or more than five days after pleading guilty or no contest or being convicted. In most cases, the defendant will waive the time for sentencing. This would allow the Court to impose the agreed-upon sentence where there is a plea agreement and would avoid having another court date. In cases where the defendant is entering a diversion program, this waiver also allows the defendant to come back after a certain amount of time has lapsed to have his or her case dismissed if the terms of the diversion have been successfully completed.
At the time of sentencing, the judge will read the terms of the sentence into the record. The defendant has a right to be present at his or her sentencing hearing, however the defendant's attorney can appear on the defendant's behalf pursuant to California Penal Code Section 977(a) PC if the Court allows it. The Court may require the defendant to personally appear for sentencing, especially if the defendant will be taken into custody.
The defendant is entitled to certain rights at his or her sentencing hearing, including the right to be represented by counsel, the right to present evidence and the right to suggest an alternative sentence. The defense does not have a right to cross-examine witnesses at a sentencing hearing. In cases, the judge may hear testimony from victims or their families at sentencing hearing. The judge may also allow the probation officer to speak regarding the probation report that was prepared on a felony matter. The defense would not be allowed to confront these witnesses at the sentencing hearing.
The sentence that can be imposed for a particular crime is not arbitrary and the statute will control whatever minimum or maximum sentence may be imposed. In addition, there may be aggravating factors that would add mandatory sentencing provisions that the judge would be required to follow. When there is a plea agreement in place, the judge will almost always impose follow the sentence that the parties have agreed to. Contested sentencing hearings usually only occur when a defendant has been convicted at trial and the judge must determine what the appropriate sentence should be.
The judge will have to determine whether or not to place the defendant on probation or to simply impose jail or prison as an executed sentence. The judge will consider factors such as the defendant's criminal history and the particular facts of the underlying case when deciding what sentence to impose. To ensure that a judge does not abuse his or her discretion when imposing the sentence, California law requires that the judge state the reason for whatever sentence is entered.
When a defendant is convicted of two or more crimes at once, the judge would also have to decide whether to run the sentences concurrently or consecutively. If run concurrently, the sentences for each crime would run at the same time. If run consecutively, the defendant would have to complete each sentence back to back. If the Court does not specify at the time of sentencing whether sentences are to run concurrently or consecutively, the second or subsequent sentence will be deemed to run concurrent to the first.
If you are facing criminal charges, it is imperative that you meet with a Los Angeles Criminal Defense Lawyer as soon as possible. As a former Deputy District Attorney with over 14 years of prosecutorial experience, Los Angeles Criminal Defense Attorney Michael Kraut knows how to effectively represent clients at each stage of the criminal process. The sentencing hearing is a defendant's last opportunity to be heard and going into this hearing with skilled representation is critical.
For more information about Los Angeles sentencing hearings, and to schedule your free consultation, contact Los Angeles Criminal Defense Lawyer Michael Kraut at the Kraut Law Group located at 6255 Sunset Boulevard, Suite 1480, Los Angeles, CA 90028. Mr. Kraut can be reached 24/7 at 888-334-6344 or 323-464-6453.
Client Reviews
He gave me the peace of mind that my DUI case was going to be resolved. He fought for what it was needed and helped me by answering all my questions. Mike is not an average attorney. He's a very experienced, honest and straightforward person that is there for you!
I hired Attorney Mike Kraut and I'm am so happy and grateful that I did! I was arrested for a DUI because my BAC level was over the .08 limit. I ended up getting a wet and reckless instead of a DUI. I still have to do some classes and I'm on probation, but I do not have a DUI on my record. If you have a DUI hire Attorney Kraut, he definitely knows his stuff!
There aren't enough positive words to write about Mike, but let me be clear that this is the only lawyer worth hiring in Los Angeles. Mike is professional, caring, and an absolute champion at winning in court.
Mike Kraut is not a typical lawyer. He is a straightforward person with a true heart and a sympathetic ear. He is also smart and connected and he cares about the people who seek out his help. He got my son out of a jam. He did it quickly and painlessly. I recommend Mike Kraut to anyone that needs his services.
Thank you Mike for helping my son.
Michael Kraut is a rock star lawyer. I was really happy and satisfied with the results I received from Michael and his team. A few months back I was being accused of a serious felony. Mike gave me sound legal advice and worked diligently to clear my name. Mike was great at always keeping me updated and returning calls. Great, great lawyer I cant say enough about this man!
How can I express how relieved and pleased I am with Michael's professional abilities to have my Felony brought down to a misdameanor to a possible dismissal with deferment. With his care my life has been turned around and cannot say how helpful he's been not only in my case but life. He, himself has changed how I view criminal lawyers. Thank you so much Michael!