Los Angeles Enhancements Stricken
Criminal Justice Reform and Sentencing Enhancements in Los Angeles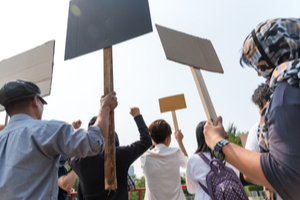 In the early 1990s, opinions in the United States and throughout California regarded crime as a problem to be solved by increased policing and harsher sentences. Blame for crime was placed as much on lenient judges and weak laws as on individuals themselves. The resulting legislative crack-down led to the Federal Violent Crime Control and Law Enforcement Act, often called the '94 Crime Bill, and the California Three Strikes Law the same year. Limitations were placed on a Judge's ability to dismiss Strike enhancements, as well as enhancements involving guns and other forms of violent crime.
As decades went by, views on the root causes of crime began to shift, particularly in California. Research based approaches showed that dealing with poverty and trauma was a more effective deterrent than prison time. California became willing to begin the process of dismantling the harsher portions of the 90s crime bills, sometimes by referendum, sometimes by legislative act.
Criminal Justice Reforms and Recent Legislation
In 2012, proposition 36 was passed by California voters. This changed the law so that a person would not be given a life sentence for two serious or violent strike offenses and one general felony, but would only receive a life sentence for three strike convictions. The proposition also allowed inmates serving life sentences under the Three Strikes Law to seek resentencing.
In 2017 Senate Bill No. 620 sought to end the mandatory nature of gun enhancements. On January 1st, 2018 a new version of 12022.5 went into effect, adding a subsection (c) which stated, "The court may, in the interest of justice pursuant to Section 1385 and at the time of sentencing, strike or dismiss an enhancement otherwise required to be imposed by this section. The authority provided by this subdivision applies to any resentencing that may occur pursuant to any other law."
In 2018 Senate Bill 1393 sought to remove the mandatory nature of "nickel" priors, the five year sentencing enhancement that results from a serious or violent conviction after an equivalent prior offense. On January 1st, 2019, Penal Code § 1385 was amended to remove the prior subsection (b), which had stated, "This section does not authorize a judge to strike any prior conviction of a serious felony for purposes of enhancement of a sentence under Section 667." On January 1st, 2020, the final version of Penal Code § 667 went into effect. The court now has discretion to strike enhancements, or the associated punishment, for both personal use of a firearm and "nickel" priors. The clear intent of the voters and the legislature is for courts to include this analysis in their sentencings.
Criminal Justice Reform Moving Forward
Unfortunately, there is still not a lot of law guiding how judge in the application of these new laws. The considerations for strike enhancements remain a solid guide for scrutinizing other enhancements. The California Supreme Court in Garcia approved the trial court's dismissal of priors based on the following reasons: "[i] defendant's prior convictions all arose from a single period of aberrant behavior for which he served a single prison term, [ii] defendant cooperated with police, [iii] his crimes were related to drug addiction, and [iv] his criminal history does not include any actual violence." People v. Garcia, 20 Cal. 4th 490, 503, 85 Cal. Rptr. 2d 280, 976 P.2d 831 (1999). A judge may still look at sentencing principles relating to matters such as the defendant's background, character, and prospects. People v. Williams (1998) 17 Cal.4th 148, 160.
[T]he court in question must consider whether, in light of the nature and circumstances of his present felonies and prior serious and/or violent felony convictions, and the particulars of his background, character, and prospects, the defendant may be deemed outside the scheme's spirit, in whole or in part, and hence should be treated as though he had not previously been convicted of one or more serious and/or violent felonies. If it is striking or vacating an allegation or finding, it must set forth its reasons in an order entered on the minutes, and if it is reviewing the striking or vacating of such allegation or finding, it must pass on the reasons so set forth.
Id. At 161.
While courts have established rules for applying Penal Code § 1385 to prior strikes, the principles that guide striking enhancements have been expanding in recent years. The clear intent of the legislature and voters is for judges to treat defendants with individual consideration, moving away from mandatory stacked sentences. However, it takes a knowledgeable defense attorney to guide a judge through the shifting climate of precedent and reform.
If you or a loved one if facing sentencing enhancements, or wants to explore how criminal justice reform can work in your favor, it is imperative that you consult with a Los Angeles Criminal Defense Attorney right away. Los Angeles Criminal Defense Lawyer Michael Kraut is a former Deputy District Attorney with over 14 years of prosecutorial experience who understands how to effectively challenge California's Three Strikes Law and other enhancement schemes.
For more information about reducing your potential sentence, contact Los Angeles Criminal Defense Attorney Michael Kraut at the Kraut Law Group located at 6255 Sunset Boulevard, Suite 1520, Los Angeles, CA 90028. Mr. Kraut can be reached 24/7 at 888-334-6344 or 323-464-6453.