Arraignments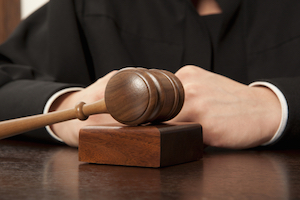 The first stage of court proceedings for any case is usually the arraignment hearing. An arraignment is a defendant's first appearance in front of a judge where he or she is informed of the charges and is asked to enter a plea. At the arraignment, the defendant's attorney is provided a copy of the criminal complaint and police reports and the issue of bail may be argued. If the defendant does not plead "no contest" or "guilty," a future date will be scheduled. For misdemeanor offenses, the judge will set a pretrial date. For felonies, the case may be set directly for preliminary hearing or may be sent to an early disposition court in order to try and resolve the matter. For felony charges, there are actually two different arraignments that may occur. The first takes place after charges have been filed. The second arraignment would occur after the preliminary hearing if the defendant has been held to answer to the criminal charges.
When someone is initially arrested for a crime, he or she cannot be held in custody for longer than 48 hours without going to court (not including weekends or holidays). When a person is arrested, he or she may be released by the police and given a future court date or the person arrested may post bail. He or she will also be given a future date to appear in court after a bond has been posted.
For felony offenses, the defendant would have to appear personally for the arraignment while defendants charged with misdemeanors are generally allowed to have an attorney appear on their behalf pursuant to California Penal Code Section 977(a) PC.
At the arraignment the prosecutor may request that bail or conditions of O.R. be set, even where the defendant has already posted bond. The prosecution may have decided to file additional charges and they may be requesting higher bail than what has already been posted. In some cases, the prosecution may request a hold pursuant to California Penal Code Section 1275.1 PC. Under the law, if there is probable cause to believe that the bail money posted was derived from the defendant's criminal activities, the defendant will be unable to use these funds for bail. Any funds that are posted must be first evaluated at a hearing to determine whether or not the funds posted by the defendant or on his or her behalf are from legitimate sources. These 1275 holds are often seen where defendants are charged with embezzlement, grand theft, extortion, drug sales and white collar crimes.
In some cases, the judge may not require the defendant to post bail but may issue certain conditions of O.R. that the defendant would be expected to follow. In many DUI cases with aggravating factors, such as where the defendant had a high BAC, was involved in a collision or has prior DUI convictions, the judge at arraignment may require that the defendant attend weekly Alcoholics Anonymous meetings as a condition of release. The judge can also require that the defendant wear an alcohol monitoring anklet to ensure that he or she does not consume alcohol while the case is pending. In domestic violence cases, the defendant may be issued a protective order that would prevent him or her from coming into contact with the victim. The judge may also order a verbal "stay away" order.
Defendants who do not appear personally at the arraignment and who do not have an attorney appear on their behalf will have a bench warrant issued for their arrest. In these cases, any law enforcement officer who encounters the defendant is authorized to arrest that person and to bring him or her directly to court for the arraignment. The judge may require higher bail amounts for defendants who had previously bench warranted.
If you or a loved one have an upcoming arraignment hearing, it is crucial that you consult with a Los Angeles Criminal Defense Attorney as soon as possible. As a former Deputy District Attorney with over 14 years of prosecutorial experience, Los Angeles Criminal Defense Lawyer Michael Kraut helps his clients navigate the complex court process and understands how to effectively present the best defense possible at all stages of court proceedings.
For more information about Los Angeles arraignments, and to schedule your free consultation, contact Los Angeles Criminal Defense Lawyer Michael Kraut at the Kraut Law Group located at 6255 Sunset Boulevard, Suite 1520, Los Angeles, CA 90028. Mr. Kraut can be reached 24/7 at 888-334-6344 or 323-464-6453.