Can't Touch This – California Law Excludes Evidence of Rap Lyrics and Creative Expressions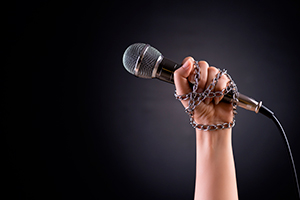 Rap lyrics, like any other type of creative expression, can run the gamut. The lyrics can be sweet, angry, violent, or all the above. The lyrics can be very general or ambiguous, or specific and direct. The lyrics can also have unintended consequences in court. Previously in California, rap lyrics and other types of creative expression could be admitted in criminal proceedings, such as preliminary hearings and jury trials, as long as they were relevant, and their probative value was not substantially outweighed by the substantial danger of undue prejudice. Typically, the proponent of this type of evidence would try to get around these limitations by arguing that the rap lyrics or other form of expression goes toward the defendant's motive or intent to commit the particular crime, whether a violent crime, such as a murder, robbery, battery, or other type of crime, such as a carjacking or theft, to name a few.
However, the California Legislature has now passed Assembly Bill 2799, which articulates specific guidelines and requirements for the admission of rap lyrics and other types of creative expression that courts must utilize. Assembly Bill 2799 effectively places additional restrictions on this type of evidence.
The Preamble by the Legislature Makes Clear the Intent of Assembly Bill 2799
In Section 1, the Legislature declared that "(a) Existing precedent allows artists' creative expression to be admitted as evidence in criminal proceedings without a sufficiently robust inquiry into whether such evidence introduces bias or prejudice into the proceedings. In particular, a substantial body of research show a significant risk of unfair prejudice when rap lyrics are introduced into evidence…." The Legislature went on to state "(b) It is the intent of this Legislature to provide a framework by which court can ensure that the use of an accused person's creative expression will not be used to introduce stereotypes or activate bias against the defendant, nor as character or propensity evidence; and to recognize that the use of rap lyrics and other creative expression a circumstantial evidence of motive or intent is not a sufficient justification to overcome substantial evidence that the introduction of rap lyrics creates a substantial risk of unfair prejudice."
As such, Assembly Bill 2799 amended California Evidence Code section 352.2 of the California Evidence Code to read:
"(a) In any criminal proceeding where a party seeks to admit as evidence a form of creative expression, the court, while balancing the probative value of that evidence against the substantial danger of undue prejudice under Section 352, shall consider, in addition to the factors listed in Section 352, that: (1) the probative value of such expression for its literal truth or as a truthful narrative is minimal unless that expression is created near in time to the charged crime or crimes, bears a sufficient level of similarity to the charged crime or crimes, or includes factual detail not otherwise publicly available; and (2) undue prejudice includes, but is not limited to, the possibility that the trier of fact will, in violation of Section 1101, treat the expression as evidence of the defendant's propensity for violence or general criminal disposition as well as the possibility that the evidence will explicitly or implicitly inject racial bias into the proceedings." (Emphasis added).
California Evidence Code section 352.2, as amended by Assembly Bill 2799, goes on to state in subsection (b), that, if a party seeks to admit this type of evidence, the Court shall consider (1) any credible testimony on the genre of creative expression, (2) experimental or social science research that introduction of the particular type of expression explicitly or implicitly introduces racial bias into the court proceedings; and (3) evidence to rebut such research and testimony.
These changes effectively set a higher burden for the proponent of this evidence, making it extremely difficult for this type of evidence to make its way in front of the jury or other trier of fact.
For more information about what is admissible in a criminal proceeding, and to schedule your free consultation, contact attorney Michael Kraut at the Kraut Law Group located at 6255 Sunset Boulevard, Suite 1520, Los Angeles, CA 90028. Mr. Kraut can be reached 24/7 at 888-334-6344 or 323-464-6453.