Burbank Robbery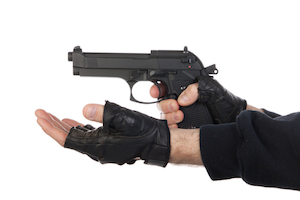 Burbank robbery crimes, filed pursuant to California Penal Code Section 211 PC, are serious felony offenses that can result in extensive court penalties as well as other collateral consequences. A robbery conviction is considered a strike under the Three Strikes Law and could be used to enhance penalties for certain future violations of the law.
As defined by statute, a robbery occurs when the defendant takes property from another person by using force or fear. The type of property taken or its value is not relevant in a robbery prosecution. Robbery offenses can be committed while using a weapon or via a threat of violence to the victim or to his or her family or property. A robbery conviction can result in prison sentences of up to five years. Using a weapon in the robbery or causing injury to someone else as part of the robbery will result in enhanced prison sentences for the defendant.
There are two different types of robbery offenses that can be charged in Burbank, robbery in the first degree and robbery in the second degree. Second degree robbery is a standard robbery offense where the defendant takes another's property by using force or fear. If the robbery offense was carried out at the home of the victim, as a carjacking, at an automated teller machine or against a cab driver, first degree robbery charges would be appropriate.
While second degree robbery is punishable by a maximum of five years in prison, a person convicted of first degree robbery can be sent to prison for up to nine years. In addition to prison sentences, the defendant would be required to pay restitution to the victim for any losses or damages incurred. Burbank robbery crimes are always felonies and a conviction can lead to lifelong collateral consequences such as the loss of voting rights and the right to legally own or possess firearms.
The crime of robbery is comprised of the following elements, all of which must be proven beyond a reasonable doubt before a defendant can be convicted in Burbank:
The defendant seized property not belonging to him or her.


The defendant took the property off the defendant or his immediate vicinity or control.


The victim did not consent to the defendant taking his or her property.


The defendant used force and/or fear in order to obtain the property.


AND the defendant intended to permanently take away the property from the victim or deprive the victim of the property's use for such a period of time that it would diminish its value.
A threat to injure the victim or a threat to damage or injure the victim's family or property would satisfy the "fear" element of robbery under California Penal Code Section 211 PC.
There are legal defenses that may be successfully asserted in fighting Burbank robbery charges. A defendant cannot be convicted of robbery if the underlying property taken actually belonged to him, or if the defendant reasonably and honestly believed that the property was his. In these situations, the defendant would not be guilty of robbery under California Penal Code Section 211 PC. However, if he used force or threats to reclaim his property, the defendant could potentially be charged with other criminal offenses such as criminal threats under California Penal Code Section 422 PC or battery pursuant to California Penal Code Section 242 PC.
The sentence imposed on a Burbank robbery offense can be affected by the presence of certain factors. If there are numerous victims to the robbery, the defendant can be charged with an individual count of robbery for every victim. If the defendant or an accomplice used a gun to commit the robbery offense, the sentencing judge can sentence the defendant to up to ten years in prison. If the gun was discharged during the robbery offense, a prison sentence of up to 20 years is possible.
If you have been arrested for or charged with a Burbank robbery crime, it is absolutely critical that you meet with a Burbank Criminal Defense Lawyer as soon as possible. Burbank Criminal Defense Lawyer Michael Kraut is a former Deputy District Attorney with over 14 years of prosecutorial experience who is highly skilled at fighting serious felony offenses such as this. Mr. Kraut understands the high stakes involved and works diligently to make sure his clients receive the best representation available.
For more information about Burbank robbery offenses, and to schedule your free consultation, contact Burbank Criminal Defense Lawyer Michael Kraut at the Kraut Law Group located at 2600 West Olive Avenue, 5th Floor, Burbank, CA 91505. Mr. Kraut can be reached 24/7 at 818-563-9810.