What is ''Staleness'' in Los Angeles Criminal Cases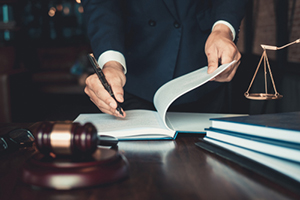 A search warrant requires probable cause. This is a requirement that comes directly from the Fourth Amendment to the United States Constitution, which states, "no Warrants shall issue, but upon probable cause, supported by Oath or affirmation, and particularly describing the place to be searched, and the persons or things to be seized." There are several formulations of exactly what probable cause is, but it is generally defined as a somewhat high probability, based on specific facts, that evidence of a crime will be found in the place searched.
For a warrant to issue in Los Angeles, not only is probable cause required, but a judge must review the facts provided by a police officer in an affidavit. If the judge finds that the facts support probable cause, the judge may sign the warrant, and the officer's affidavit remains attached to the warrant. One of the factors that a judge will consider is not just how strong the facts are that a crime was committed, but how recently a crime was committed. And that must be coupled with evidence to show that there remains a high likelihood that evidence of the crime is still at the location to be searched. It is not enough that evidence was once located there in the past. A judge must be convinced that the evidence is still there.
Stale Information
Information that is remote in time, or simply old, is referred to as "stale." Information that is stale may not be used to create probable cause and support a warrant. This is because a search warrant is all about guessing the location of illegal items, without being precisely sure. The judge must look at all the facts that the police officer brings and decide if the officer is making a good guess. If yes, the judge signs the warrant. If not, the judge rejects the warrant. The police officer may then give up on the search, or try to find more facts to convince the judge that the evidence is probably at a location.
It may seem strange to talk about a constitutional right as a guessing game, even though criminal investigations are about turning guesswork into factual cases. The criminal protections provided by the constitution are provided to make sure that homes are searched based on good facts, not just guesses. That is why stale information must be rejected. A judge may think that contraband, or evidence of a crime, was in a home at some point, but may just as likely have been moved away. So, a judge will inform the officer that what was a good guess, a month or a year before, is no longer a good guess.
The issue of staleness is common in drug cases. A law enforcement narcotics team may make controlled buys. That means they may use undercover officers to buy drugs. Rather than rushing in to arrest the dealer, teams may try to show a pattern in the area, or to follow dealers to their distributor. This allows the narcotics team to make more arrests for more serious offenses. But when it is time to make the arrests, they must gather all of the evidence that they have for a probable cause determination. If there is a lag in the time between the buying, the tailing of dealers, and surveilling the distributor, some of the information may have gone stale. If such a situation led to an arrest, it would be up to the defense attorney to uncover the information used for the probable cause affidavit of the search warrant. The attorney would then have to file a suppression motion to have all the evidence related to the search warrant thrown out.
Sometimes the information may be stale even when the police officers act quickly. Law enforcement makes use of informants, and the information provided by an informant may relate to past actions, or may be very general information without clear dates. Information that has no time period attached to it is stale, because it is the specific recency of information that must exist to create probable cause.
Because probable cause determinations involve a very intricate area of the law, it is imperative that you have a skilled and knowledgeable attorney fighting on your behalf. Criminal Defense Attorney Michael Kraut is a former deputy district attorney who is extremely well-versed in challenging probable cause determinations on behalf of his clients.
For more information about Probable Cause and Police Activity, and to schedule your free consultation, contact Michael Kraut at the Kraut Law Group. Mr. Kraut can be reached 24/7 at 888-334-6344 or 323-464-6453.