The Fifth Amendment and Los Angeles Courts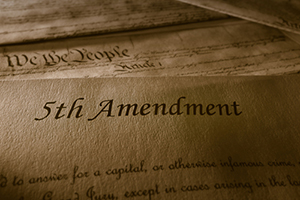 When it comes to criminal justice in Los Angeles, there are no more famous words than "you have the right to remain silent." This is a right rooted in the Fifth Amendment of the United States Constitution, and protected also by the California Constitution in Article 1, § 15. The Fifth Amendment of the United States Constitution states:
No person shall be held to answer for a capital, or otherwise infamous crime, unless on a presentment or indictment of a Grand Jury, except in cases arising in the land or naval forces, or in the Militia, when in actual service in time of War or public danger; nor shall any person be subject for the same offence to be twice put in jeopardy of life or limb; nor shall be compelled in any criminal case to be a witness against himself, nor be deprived of life, liberty, or property, without due process of law; nor shall private property be taken for public use, without just compensation.
A Witness Against Himself
There are many rights enumerated in this paragraph, but the right to remain silent comes from the phrase, "No person…shall be compelled in any criminal case to be a witness against himself." This is also known as "The Privilege Against Self-Incrimination." While being a witness occurs only at trial, the Supreme Court has determined that the right against self-incrimination must be protected throughout a criminal investigation, in order to truly preserve the protections of the Fifth Amendment. Informing individuals of some of their Fifth and Sixth Amendment rights is the reason for the Miranda Warning.
A person charged with a crime in Los Angeles has an absolute right not to be called as a witness in their own case. This is true whether the case involves Misdemeanor or Felony charges. A lot of people think that they would want to be a witness so they could explain why they are innocent. However, if a defendant in a criminal trial takes the stand, the prosecutor gets to cross-examine that person. Which means that an experienced trial attorney gets to try to make the accused person look dishonest and confused on the stand.
The prosecutor is not limited to just trying to tear apart the testimony that is given on the stand. The prosecutor can direct the questioning into areas that make the accused person look guilty, ask leading questions, and pry into areas that the accused person may not have been expecting. When a defendant begins to testify, this waives the right against self-incrimination, and the defendant must continue to answer the prosecutor's questions for as long as the judge allows. If at any point the defendant decides that they no longer want to answer questions, this can lead to all of the defendant's testimony getting stricken from the record. Which, if it happens in front of a jury, would not look good.
A Partner in Protecting Your Rights
It is essential for an accused person have an experienced defense attorney working with them to make these difficult decisions. The criminal justice system is set up as an adversarial system, which means that the police and the prosecutor want to win, which requires the accused person and the defense to lose. And losing means a guilty verdict, which can carry jail time, probation, and consequences for future employment and housing.
Because of the adversarial nature of the criminal justice system, it is important that an attorney have a full understanding of both the prosecution and the defense side of criminal law and practice. That means when considering whether to testify at trial, the defense attorney will understand what effect the testimony will have on a jury, how the prosecutor will understand what is said, and how the prosecutor might use what is said to make the accused look dishonest. This knowledge is important in making an informed decision regarding the Fifth Amendment Right Against Self-Incrimination.
If you or a loved one are facing a criminal prosecution, it is imperative that you consult with a Los Angeles Criminal Defense Attorney right away. Los Angeles Criminal Defense Lawyer Michael Kraut is a former Deputy District Attorney with over 14 years of prosecutorial experience who understands how to protect the Fifth Amendment rights of his clients.
For more information about protecting your rights, contact Los Angeles Criminal Defense Attorney Michael Kraut at theKraut Law Group located at 6255 Sunset Boulevard, Suite 1520, Los Angeles, CA 90028. Mr. Kraut can be reached 24/7 at 888-334-6344 or 323-464-6453.