Rights of Renters in Criminal Cases
The Fourth Amendment Rights of Renters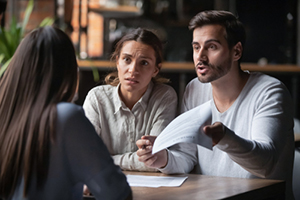 Under long-standing and well-established law, police officers in Los Angeles cannot justify entry based on purported third party consent given by property owners and hotel managers or their agents. Even if a landlord is certain that crime is being committed by a tenant within and apartment, the landlord may not let law enforcement enter the property without a search warrant. The law is so unambiguously settled that to reiterate the point again becomes redundant. If a police officer enters a home based on the consent of the landlord, that is a basis for a motion to suppress the evidence seized.
Even if a landlord has the right to enter a tenant's residence, that does not give the landlord the right to allow law enforcement into the tenant's residence. That means that even if a landlord has a right to enter a tenant's property after reasonable notice (usually 24-48 hours) to make a repair or check on the property, that does not mean that the landlord can bring police officers into the house. Even if a landlord thinks that there are grounds to evict a tenant, that does not mean that police can disregard the Fourth Amendment protections of the tenant.
The United States Supreme Court advises against using property law to violate the Fourth Amendment:
"[I]t is unnecessary and ill-advised to import into the law surrounding the constitutional right to be free from unreasonable searches and seizures subtle distinctions, developed and refined by the common law in evolving the body of private property law which, more than almost any other branch of law, has been shaped by distinctions whose validity is largely historical. . . . [W]e ought not to bow to them in the fair administration of the criminal law. To do so would not comport with our justly proud claim of the procedural protections accorded to those charged with crime."
Jones v. United States (1960) 362 US 257, 266-67.
Residents are not Trespassers, Even Without a Lease
Because of the myriad distinctions that affect the status of a resident, the decision to evict a tenant can only be made by a judge well-versed in the numerous procedures and protections affecting California residents. All procedures contained within the California Code of Civil Procedure §§ 1159-1175 must be considered and observed. For this reason, a police officer need only remember one simple rule when it comes to landlord-requested and warrantless entry into a residence: Never do it without a court order. This is the law in California, and in the entire United States, affirmed time and time again by the United States.
Police officers may not enter a home to investigate criminal activity just because there is a problem with the lease. Problems with a lease do not make residents trespassers. In the absence of a valid lease, established residents are considered tenants-at-willIt is equally well settled that "one who enters upon land by permission of the owner under a void parol (oral) contract, or under a void lease, or pending unexecuted negotiations for a written lease, is a tenant at will." Even if a landlord thinks tenants are committing crimes, and the lease is invalid, if the residents have been present for thirty days or more, each resident is a tenant-at-will that must still be evicted under the proper unlawful detainer actions.
Even if it appears that there are individuals that are not on a lease or are just staying at an apartment for a few days, officers cannot enter without a warrant even if only the guests are present. Even an overnight guest has Fourth Amendment protections, and temporary accommodation do not overcome the warrant requirement.
If you have been charged with a crime or are under investigation and police officers entered your residence, it is crucial that you speak with a Los Angeles Criminal Defense Lawyer right away. As a former Deputy District Attorney with over 14 years of prosecutorial experience, Los Angeles Criminal Defense Attorney Michael Kraut understands this complex area of the law and is highly skilled at litigating issues pertaining to searches.
For more information about Los Angeles residential searches, and to schedule your free consultation, contact Los Angeles Criminal Defense Lawyer Michael Kraut at the Kraut Law Group located at 6255 Sunset Boulevard, Suite 1520, Los Angeles, CA 90028. Mr. Kraut can be reached 24/7 at 888-334-6344 or 323-464-6453.