DUI and the Accident Report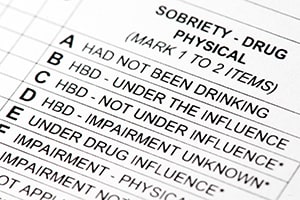 Whenever a suspect is arrested on suspicion of a DUI offense, the arresting officer will compose an incident report detailing the facts and circumstances of the arrest. This report will become a critical part of the prosecution's case. In cases where there was a DUI collision, the investigating officers will also prepare an accident report describing the events that led to the collision. This report can also be critically important in DUI cases.
What is the Accident Report?
Whenever a collision occurs and the police are summoned to respond, there are often several different officers involved. When one or more drivers involved in a collision is suspected of driving under the influence of alcohol or drugs, one or more officers will handle the DUI investigation while other officers will be responsible for the collision analysis. Unlike many DUI arrests in which the officer actually sees the DUI suspect driving a motor vehicle, law enforcement is usually not present when a DUI collision occurs. As a result, they must evaluate the evidence and interview witnesses to determine who was driving and what actually occurred. Not only are these reports important to the criminal case, but these reports also become important in determining civil liability and settling insurance claims.
The accident investigation will be completed by an officer who has received specialized training. In serious accidents that occur on the freeway, an officer from the CHP's Multidisciplinary Accident Investigation Team ("MAIT") will be brought in to conduct a thorough investigation.
The accident report will try to determine who was driving, exactly what occurred that caused the collision and what was the cause of the accident. The investigating officer will take measurements, interview witnesses and examine the vehicles involved. The collision will be diagramed and a copy of the report will be provided to defense counsel as part of the DUI discovery process.
The accident report will usually not include facts about the driver's intoxication, chemical test results or performance on the field sobriety tests. These observations will be included in the DUI reports that will also be compiled and turned over to the filing prosecutor. DUI collisions are treated very seriously by judges and prosecutors and drivers involved in collisions while under the influence will often face enhanced penalties if convicted of the underlying DUI offense.
Accident Reconstruction Experts
In some cases, it may be helpful to bring in an accident reconstruction expert to challenge the conclusions made by law enforcement in the accident report. There may have been critical evidence that was overlooked or ignored that may exonerate the defendant. For example, there may be evidence that the defendant was not the driver of the vehicle at the time of the collision, and an accident reconstruction expert may be able to establish that a defendant was not in the driver's seat at the time of a collision based on placement of injuries or seat positioning.
The accident reconstruction expert's report may also challenge the presumption that the driver's intoxication was the cause of the collision. This determination is often critical in cases where another party was injured or killed and the prosecution has filed gross vehicular manslaughter or even DUI murder charges against the defendant. The defense may be able to demonstrate that the accident was caused by road conditions, weather, or other vehicles that may result in reduced charges.
If you have been charged with a DUI involving a collision, it is critical that you meet with an experienced DUI lawyer immediately. Michael Kraut is a former Deputy District Attorney with over 14 years of prosecutorial experience who understands how to effectively defend clients charged with DUI collisions.
For more information about DUI and the accident report, and to schedule your free consultation, contact Michael Kraut at the Kraut Law Group located at 6255 Sunset Boulevard, Suite 1480, Los Angeles, CA 90028. Mr. Kraut can be reached 24/7 at 888-334-6344 or 323-464-6453.
Client Reviews
He gave me the peace of mind that my DUI case was going to be resolved. He fought for what it was needed and helped me by answering all my questions. Mike is not an average attorney. He's a very experienced, honest and straightforward person that is there for you!
I hired Attorney Mike Kraut and I'm am so happy and grateful that I did! I was arrested for a DUI because my BAC level was over the .08 limit. I ended up getting a wet and reckless instead of a DUI. I still have to do some classes and I'm on probation, but I do not have a DUI on my record. If you have a DUI hire Attorney Kraut, he definitely knows his stuff!
There aren't enough positive words to write about Mike, but let me be clear that this is the only lawyer worth hiring in Los Angeles. Mike is professional, caring, and an absolute champion at winning in court.
Mike Kraut is not a typical lawyer. He is a straightforward person with a true heart and a sympathetic ear. He is also smart and connected and he cares about the people who seek out his help. He got my son out of a jam. He did it quickly and painlessly. I recommend Mike Kraut to anyone that needs his services.
Thank you Mike for helping my son.
Michael Kraut is a rock star lawyer. I was really happy and satisfied with the results I received from Michael and his team. A few months back I was being accused of a serious felony. Mike gave me sound legal advice and worked diligently to clear my name. Mike was great at always keeping me updated and returning calls. Great, great lawyer I cant say enough about this man!
How can I express how relieved and pleased I am with Michael's professional abilities to have my Felony brought down to a misdameanor to a possible dismissal with deferment. With his care my life has been turned around and cannot say how helpful he's been not only in my case but life. He, himself has changed how I view criminal lawyers. Thank you so much Michael!