Los Angeles Second Time DUI
Los Angeles DUI Attorney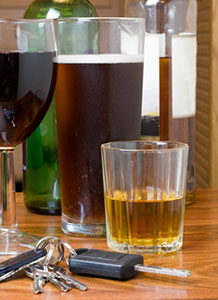 In California, DUI convictions are considered priorable, which means that the conviction can be used to enhance the penalties on any subsequent DUI. A person who has been charged with a second Los Angeles DUI offense may be subject to certain mandatory sentences, depending on the underlying circumstances of the offense. As one would expect, the punishment for a second time DUI offense can be harsher and judges and prosecutors tend take these violations very seriously. Anyone who has been arrested for or charged with a second DUI offense should get in touch with an experienced Los Angeles DUI Attorney right away.
It is important to note that a second time DUI is considered a DUI offense in which the defendant had a prior DUI within the previous 10 years. This prior conviction can be out of California or any other state. There may be circumstances where a defendant has a DUI conviction on his or her record from over 10 years ago. In these situations, the offense would not be considered a second time offense under the law. However, the prosecution will almost certainly be aware of the earlier offense and this may affect how they treat the new violation.
Judges and prosecutors are never pleased when a person who was previously convicted of driving under the influence is charged with a subsequent DUI offense. This may be a sign that the defendant has underlying drug or alcohol issues and the law tries to strike a balance between punishing the offender and providing treatment.
A second time DUI offender in Los Angeles is typically sentenced to five years of summary probation. This period is longer than what is imposed on typical first time DUI offenses, which usual involves a three year probation period. The defendant will usually be required to complete the 18-month SB-38 drug and alcohol education program. In addition, the law requires that the defendant be sentenced to a minimum of 96 hours in jail. In other counties, such as Orange or Riverside, the jail time imposed on a second DUI offense will be more extensive.
In addition, the court will typically impose a higher fine amount for second time DUI offenses. After penalties and assessments have been totaled, the fine may end up being in excess of $2000. The Court can also require additional conditions of probation, such as community labor and/or service, mandatory attendance of Alcoholic Anonymous meetings, restitution if there was a collision and any other programs or conditions that may be considered appropriate.
If the defendant on the second offense was still on probation for the first DUI, the subsequent offense will be considered a DUI probation violation and additional penalties will be imposed. This can additional include jail time on top of whatever is imposed for the second offense.
A driver who is arrested for a second DUI offense will also face a longer driver's license suspension. While the standard suspension for a first time non-refusal offense is four months, the minimum suspension for a second DUI offense is a full year. Unlike the administrative suspension imposed for a first time offense which allows for a restricted license after a 30 day hard suspension, a restricted license is not generally available on a driver's administrative suspension for a second DUI violation. Depending on what happens in court, the defendant may ultimately be eligible for a restricted license with installation of an Ignition Interlock Device after serving a 90 day hard suspension.
If the driver refused to submit to chemical testing, the suspension period for a second offense will be a full two years. A restricted license will not be available during this time period as a result of the refusal.
If you are arrested for a second DUI offense, it is very important that you discuss your case with a Los Angeles DUI Attorney as soon as possible. As a former Deputy District Attorney with over 14 years of prosecutorial experience, Los Angeles DUI Attorney Michael Kraut knows how to effectively defend those accused of second time DUI offenses. Mr. Kraut works hard to ensure his client's receive the most thorough and effective defense possible.
For more information about Los Angeles second time DUI offenses, and to schedule your free consultation, contact Los Angeles Criminal Defense Lawyer Michael Kraut at the Kraut Law Group located at 6255 Sunset Boulevard, Suite 1520, Los Angeles, CA 90028. Mr. Kraut can be reached 24/7 at 888-334-6344 or 323-464-6453.