Exhibition of Speed
Exhibition Of Speed Pursuant To Vehicle Code 23109(C)
Under California Vehicle Code Section 23109(c), it is unlawful to engage in an exhibition of speed or a speed contest. At first glance, this may appear to have nothing to do with the offense of DUI and driving under the influence. However, in certain circumstances, a prosecutor may agree to reduce a DUI charge and allow a defendant to plead to a speed exhibition (or "speed ex" as its commonly referred to) under 23109(c). A speed exhibition charge provides many advantages over a DUI conviction and is typically one of the best outcomes available short of an outright dismissal.
There are many reasons why an exhibition of speed is preferable to DUI conviction. The term of probation is much shorter for a speed ex. While a DUI probationary term can range from three to five years, a speed ex carries a probation term of only one to two years. Additionally, should someone convicted of a speed ex violate their probation, the jail term will typically be shorter than that associated with DUI charges. Speed exhibition carries a maximum sentence of 90 days in jail, while the DUI charges range from six months to one or two years, depending on if the individual has prior convictions for DUI. Furthermore, speed exhibition charges cannot be used for enhancement purposes in the case of future DUI-related offenses. That means that if a person charged with DUI but who pleads to the offense as a speed exhibition gets another DUI in the future, that second charge would be treated as if it was a first time DUI. And finally, many people find that a conviction for speed exhibition carries less of a stigma than a Driving Under the Influence charge, as it is not alcohol related. Thus many feel more comfortable with such a charge on their record.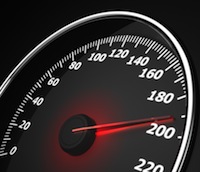 Prosecutors are not typically quick to offer speed exhibitions and generally there must some apparent flaw in their case for them to reduce a DUI to a speed ex. This could involve evidentiary problems such a issues with the blood or breath test, credibility concerns with the officer or obvious inaccuracies within the police report. A prosecutor may also be convinced with a low blood alcohol reading and with evidence that the offender has an otherwise spotless record.
Michael Kraut is a skilled Los Angeles DUI defense lawyer who is adept at highlighting the weaknesses of the prosecutor's case while emphasizing the merits of his client's situation to convince the prosecutor to offer a speed exhibition. As a former Deputy District Attorney, he knows what prosecutors look for in assessing cases and can eloquently and effectively argue his client's position.
For more information about reduced charges such as speed exhibitions and the various defenses for your DUI case, and to schedule your free consultation, contact Michael Kraut at the Kraut Law Group. Mr. Kraut can be reached 24/7 at 888-334-6344 or 323-464-6453.