Los Angeles DUI: BAC Above 0.20 Percent
Los Angeles DUI Attorney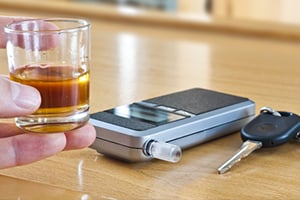 Prosecutors recognize that certain factors may make some DUI offenses worse than others and there are a number of DUI sentencing enhancements that prosecutors can allege when charging defendants with driving under the influence. Drivers who are found to have a BAC in excess of 0.20 percent can be charged with a DUI offense as well as an "over .20 percent BAC" allegation pursuant to California Vehicle Code Section 23538(b)(2) VC. Drivers who are convicted of the DUI and this enhancement are required to take a longer alcohol education program and often face harsher penalties.
Under the law, a driver will be charged with driving under the influence when he or she has a BAC of 0.08 percent or higher under California Vehicle Code Section 23152(b) VC. A BAC of 0.20 percent is two and a half times the legal limit and drivers who have high BACs are more likely to cause collisions while on the road. As a result, the California legislature has increased penalties for drivers who drive under the influence with high BACs, even if they have no prior DUI offenses.
When a driver is arrested on suspicion of DUI, the arresting officer will provide the option of taking either a breath or blood test. The results of the breath test are immediately known to law enforcement, who sometimes will share the results with the driver. Blood test results are not known for several weeks and typically a driver will not find out the BAC results of the blood test until his or her arraignment hearing in court.
Prosecutors will typically add an "above 0.20 percent" allegation for drivers whose BAC is 0.20 percent or higher. At the defendant's arraignment, the judge may be inclined to impose conditions of release as a result of a high BAC allegation. The judge may require that the defendant attend weekly Alcoholics Anonymous meetings as a condition of release or may even require that the defendant wear an alcohol monitoring bracelet while the criminal case is pending.
Defendants who are convicted of a DUI offense with the "above .20 percent" allegation will face increased penalties in court. California Vehicle Code Section 23538(b)(2) VC requires that defendants convicted of DUI with BACs of 0.20 percent or above be required to complete the nine-month AB1353 alcohol education program, as opposed to the three-month program that most first time offenders with low BACs are required to attend. In addition, the judge may sentence the defendant to more onerous terms of probation, which can include jail time, community labor or community service, extensive court fines, AA meetings or programs such as the Hospital and Morgue ("HAM") program or the MADD Victim Impact Panel ("VIP"). If the defendant was involved in a collision, he or she will be required to pay restitution to all victims for any damages incurred.
If the defendant is required to complete a longer alcohol education class, the DMV will be notified and the defendant will be unable to get his or her unrestricted driving privileges restored until the class is completed. Drivers in Los Angeles County would have to have an Ignition Interlock Device ("IID") in their vehicles until their class has been completed.
If you were arrested for DUI with a high BAC, it is critical that you meet with a Los Angeles DUI Lawyer as soon as possible. Los Angeles DUI Attorney Michael Kraut is a former Deputy District Attorney with over 14 years of prosecutorial experience who understands how to effectively defend clients charged with DUI, regardless of their BAC.
For more information about Los Angeles DUI with a BAC above 0.20 percent, and to schedule your free consultation, contact Los Angeles DUI Lawyer Michael Kraut at the Kraut Law Group located at 6255 Sunset Boulevard, Suite 1520, Los Angeles, CA 90028. Mr. Kraut can be reached 24/7 at 888-334-6344 or 323-464-6453.