Los Angeles DUI: BAC Above 0.15 Percent
Los Angeles DUI Attorney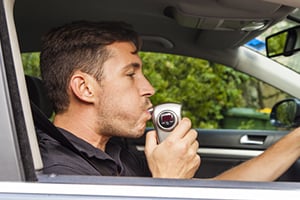 The California legislature has recognized that not all driving under the influence offenses are the same and that drivers with higher blood alcohol concentrations typically pose a greater risk for accidents and injuries. Under California Vehicle Code Section 23152(b) VC, it is illegal to drive a motor vehicle with a BAC that is 0.08 percent or higher. In 2006, the legislature added California Vehicle Code Section 23578 VC, which provides sentencing enhancements for drivers with BACs above 0.15 percent. As a result, those convicted of DUI with a high BAC can face increased penalties.
A driver's BAC may not be known at the time of arrest, depending on whether or not he or she decided to take a breath test or a blood test. The results of the breath test are known immediately and the officer handling arrest may write the BAC results on the driver's notice to appear when he or she is being released from jail. In some cases, the officer may record the BAC results but decline to tell the driver what the results are. If the driver decides to take the blood test, his or her blood sample must be sent out to the crime laboratory for testing and analysis. It may take several weeks to get the blood test results and often a defendant will first receive the blood test results at the time of his or her arraignment.
Before filing criminal charges, the prosecutor will carefully review the incident reports and other relevant evidence. The prosecutor will pay close attention to the driver's BAC results. If the driver's BAC is above 0.15 percent, the prosecutor will add the "0.15 percent or higher" allegation when filing the criminal complaint. A BAC of 0.15 percent is nearly double the legal limit and drivers who are at this level of intoxication can be a hazard to themselves and others on the road. If the driver's BAC was above 0.20 percent, the prosecution can file a different high BAC allegation pursuant to California Vehicle Code Section 23538 VC(b)(2).
Prosecutors and judges take high BAC DUIs very seriously. Drivers who are convicted of DUI with the 0.15 percent allegation may be required to take either the AB762 class, which is six months long, or the AB1353 class, which is nine months long. In addition to a longer alcohol education class, the defendant may be assigned additional terms of probation, including jail time, community service or community labor hours, programs such as the Hospital and Morgue ("HAM") or MADD Victim Impact Panel ("VIP") or any other requirement that the judge may determine to be appropriate.
The DMV does not issue a longer administrative driver's license suspension for drivers with high BACs, but it is important to remember that the DMV will not fully restore driving privileges until a driver has completed his or her mandatory alcohol education program. This means that if a driver is required to complete the six month class or the nine month class, he or she will have a suspended or restricted license for a longer period of time. In Los Angeles County, this also means that a driver will have to have an Ignition Interlock Device ("IID") in his or her vehicle for a longer period of time.
If you have been arrested for DUI and believe you had a high BAC, it is crucial that you speak with a Los Angeles DUI Attorney immediately. As a former Deputy District Attorney with over 14 years of prosecutorial experience, Los Angeles DUI Attorney Michael Kraut is highly effective at representing DUI defendants regardless of their BAC results.
For more information about Los Angeles DUI with a BAC above 0.15 percent, and to schedule your free consultation, contact Los Angeles DUI Lawyer Michael Kraut at the Kraut Law Group located at 6255 Sunset Boulevard, Suite 1520, Los Angeles, CA 90028. Mr. Kraut can be reached 24/7 at 888-334-6344 or 323-464-6453.