The Evidence Code and Criminal Plea Negotiations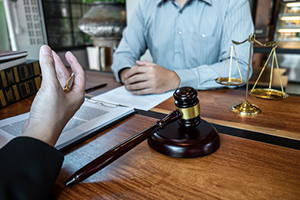 If you are worried that you may be accused of a crime, and wish to understand the law, the California Penal Code contains the most comprehensive list of crimes and their definitions. The Health and Safety Code contains many drug offenses. Crimes are outlined in the Business and Professions Code, The Game Code, and in the many municipal codes from the cities in and around the greater Los Angeles area. However, once a crime has been charged by a prosecutor, it is the California Evidence Code that determines how the evidence will be viewed, and if the evidence will lead to a Guilty, or a Not Guilty.
The rules of evidence control what is said and shown in a jury trial, a bench trial, a preliminary hearing, a motion to suppress, and every other hearing that takes place in open court. However, even if a plea deal or a dismissal is achieved before a case has ever had a hearing, that result is still very much linked to the Evidence Code. That is because when attorneys argue about whether a case is "weak" or "strong," that designation is tied to the Evidence Code. When a prosecutor and a defense attorney discuss a case, they talk about what evidence is available to show that a person is guilty or innocent, and whether that evidence could be shown to a jury in court.
If there is a murder case, and there is a witness to the murder, that might be considered a strong case. But if the witness has a history of telling lies, the case might be weakened, but it might not. Who is accusing the witness of lying? Is it family? Former acquaintances? Known rivals? Do any of those people have a motive to lie? Will a judge even find their comments relevant in a murder case? There are many levels of rules that evidence must pass through before a jury can hear it. And at each point the argument of the attorney trying to admit evidence will make it more or less likely for the evidence to "come in." That is, for the evidence to be admitted into court, and heard by a jury.
A Strong Negotiator
A very large part of the negotiations between a defense attorney and a prosecutor is based on the reputation within the legal community of the attorneys. If an unknown and unproven defense attorney disagrees with a Senior Deputy District Attorney over the admissibility of evidence, that senior prosecutor will likely remain convinced that their evidence is strong, and ask for guilty plea with a serious sentence. However, if the prosecutor knows that the defense attorney is knowledgeable in the law, has a long history of winning trials, is trusted by judges, and can back up what is said, that prosecutor will go back and recheck the evidence, and will be willing to believe that there are holes in the case. This can lead to a reduced sentence or even a dismissal.
This is why an extended history of trial victories is important, even in every case that does not go to trial. And this is why in-depth knowledge of the Evidence Code is crucially important, even if there is never a jury selected, and no evidence is ever entered as an exhibit. And this is why knowledge of what evidence is improper can determine the outcome of a case, even in there is never a motion to suppress evidence. Most cases begin with the prosecutor declaring that they have all the evidence that they need to find the accused person guilty. And the job of the prosecutor is to back up that claim with a conviction. And prosecutors devote all of their energies every day to acquiring convictions. Only a well-known and knowledgeable attorney can make prosecutors listen and reconsider their evidence. And only an attorney with a deep understanding of the Evidence Code can lead a prosecutor to a new understanding of the case to achieve the best deal possible for a client.
If you have been charged with or accused of a criminal offense, it is very important that you consult with a Los Angeles Criminal Defense Lawyer as soon as possible. Los Angeles Criminal Defense Attorney Michael Kraut is a former Deputy District Attorney with over 14 years of prosecutorial experience who knows how to effectively defend those who are charged with misdemeanors. Mr. Kraut is highly respected by judges, prosecutors and law enforcement as an excellent trial attorney who fights hard on behalf of his clients.
For more information about Los Angeles criminal proceedings, contact Los Angeles Criminal Defense Attorney Michael Kraut at the Kraut Law Group located at 6255 Sunset Boulevard, Suite 1520, Los Angeles, CA 90028. Mr. Kraut can be reached 24/7 at 888-334-6344 or 323-464-6453.