Opinion Evidence in Los Angeles Criminal Cases
Could I be Convicted of a Crime Based on Someone Else's Opinion?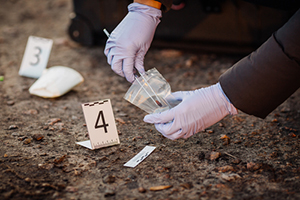 Many people understand that criminal investigations in the Los Angeles area often involve gathering fingerprints, taking DNA samples and analyzing them in a lab, finding a murder weapon, and comparing gunshot residue and bullets. Some of this scientific evidence may be the subject of disagreement between expert witnesses, whose opinions are based on scientific principles and experimentation. This type of evidence fits within the popular "CSI" narrative of criminal law. But what about normal people, who happen to witness a potential crime? People with no scientific training or special knowledge. Can such people be permitted to give opinions in court? And can those opinions be the reason for a criminal conviction?
Witness Opinions are Generally Excluded
California Evidence Code § 803 notes that a court shall exclude testimony that is based on matter that is not a proper basis for opinion. The witness may then try to give an opinion if there are parts of the testimony that are proper basis for an opinion. A witness cannot base opinions on facts not observed, such as things repeated by another person. This prevents rumors or fantastic interpretations from being shared as evidence in court. However, as is clear from the language § 803 that not all opinions are excluded.
There are Several Types of Opinions That are Permitted
Opinions by witnesses that are not experts are called "lay opinions." There are categories of opinions that are categorized as proper lay opinions. This means that they are opinions that can be used as evidence in court. Opinions are allowed to describe details that paint a picture too complex and subtle to be described. That's when a "general impression" is allowed. That is, an opinion. Evidence Code § 800 requires that lay opinions be rationally based on the witness' perception and helpful to clearly understand the testimony.
A witness may testify to the identity of another person, even if the other person is a stranger, which makes the identification more of an opinion that a certainty. People are generally not aware of the mental processes that lead to facial recognition, so it would be difficult to make a witness explain how it happens. Of course, the identification of one witness may be all it takes to convict someone of a crime. And without the detail of how a person recognizes a face, it is hard to show when they misidentify a face.
Intoxication is another category of allowable lay opinion. It is appropriate for a witness to talk about red eyes, slurred speech, dilated pupils, and the odor of alcohol on someone's breath. But taken together, they may also just give an opinion that the person displaying these symptoms is "drunk," or "high." An opinion like this from a witness can be the deciding factor in a DUI or a drunk in public case. It is hard to combat an opinion, especially if the witness cannot give many specific details to support their opinions. A witness may also give opinions as to speed and distance, which can be crucial evidence in a DUI with an accident or injury, street racing, or an evading case. In a theft or embezzlement case, the value if items or services taken are key elements. Each value can be established through lay opinion testimony. The owner of property or the provider of services can give a value, even when no market value is readily available.
Countering Opinion Evidence
It may seem somewhat hopeless to a person accused of a crime when witnesses deliver strong opinions in court that do not appear to be based on hard facts. This is when it is crucial to have an experienced defense attorney who knows the evidence code. Such an attorney can know the exact limitations of opinion evidence, objecting when testimony goes the slightest bit too far. A knowledgeable attorney can counter opinions with facts found elsewhere throughout the case, making the opinion look weak in the face of the hard facts. This is not an easy thing to accomplish, but something the best attorneys are able to do.
If you or a loved one is accused of a crime, it is very important that you discuss your case with a Los Angeles Attorney immediately. As a former Deputy District Attorney with over 14 years of prosecutorial experience, Lawyer Michael Kraut is highly skilled at cross-examining witnesses and effectively presenting testimony.
For more information about confronting witnesses, and to schedule your free consultation, contact Michael Kraut at the Kraut Law Group located at 6255 Sunset Boulevard, Suite 1520, Los Angeles, CA 90028. Mr. Kraut can be reached 24/7 at 888-334-6344 or 323-464-6453.