Obstacles to Admitting Evidence in Los Angeles Courts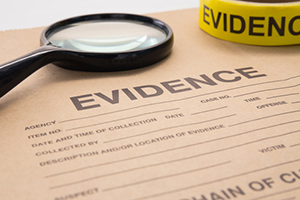 Even if a person accused of a crime has a list of great defenses, that person will be found guilty if their evidence is not admitted into court to show their innocence. While television has popularized lawyers objecting to one another's statements, to truly present a case requires a mastery of the rules of evidence, with knowledge of every objection, exception and justification for items entered into evidence. And it is the rules of evidence that guide each trial and hearing.
A lawyer cannot simply yell, "I object!" The Judge would simply stare at them, waiting, and then asking, "on what grounds?" California Evidence Code § 353 requires that every objection clearly state the grounds for the objection. That means that every time a lawyer yells, "I object," she must then state a legal ground to exclude the evidence being presented.
What are Some Grounds for Objections?
A lawyer will not always object to something a witness is saying. Sometimes the lawyer will object to the question that the other lawyer is asking. Some evidence code sections merely state that the judge should make sure questions are rapid, distinct, and effective, such as section 765. However, neither "Slow!" "Indistinct!" nor "Ineffective" ever grew into recognized objections. Instead, the law has developed into a set of expectations based on these underlying rules written into the California Evidence Code.
"Ambiguous" and "Unintelligible" are recognized objections for questions that are too confusing for a witness to answer precisely. "Vague" is an objection for questions that aren't distinct enough to elicit relevant and admissible answers. A compound question contains two or more questions, and compound questions can lead to confusing or inaccurate testimony. "Where were you on Tuesday and Thursday?" would be a compound question, unless the answer is the same for both days. This question is objectionable as vague and ambiguous. A judge would also usually accept an objection in the form, "Objection. Compound."
Court proceedings should not be redundant or drawn out more than necessary. That's why if a question has already been answered, an "asked and answered" objection is appropriate, and prevents attorney from repeatedly asking questions simply to emphasize a point. Also, a witness must continue to answer questions, not merely to tell a story. So, if a question "calls for a narrative," then that is an appropriate objection. "Tell us how you spent your morning," calls for a narrative. Narratives are prevented because a witness might wander into inadmissible testimony before the opposing lawyer had a chance to object.
The Judge has a lot of Control Over the Questions, and Some Control Over the Answers
The witness must testify truthfully, so a judge will try hard to avoid placing so many restraints on a witness that the true story cannot come out. Whether a trial involves a misdemeanor or a felony, the rules of evidence apply equally. However, it is primarily up to the attorney asking the questions to direct the testimony in a manner that remains admissible. If an attorney asks a question to one witness about something another witness said, the attorney must quote the other witness accurately. If the question contains a misleading statement, the court may sustain and objection of "misquotes a witness." Even if the question is proper, a witness may begin to quote the other witness as saying something different than the testimony in court.
If repeating the other witness survives a hearsay objection, the opposing attorney may not simply object that the testimony is different. That is because witnesses cannot listen to each other in court. One witness may be permitted to quote something said out of court by another witness. If there is disagreement over which statement is true, and which was actually spoken outside of court, that can become a key issue in a trial or a hearing. A clear misstatement by an attorney will be prevented by the judge. But an apparent misstatement by a witness must be cross-examined by the attorneys. The significance of the statements must be argued by the lawyers in closing arguments. And the jury must decide for themselves which statement is true.
There are many ways that important evidence can be blocked by a judge. And there are many ways that problematic evidence can be shown to be reliable, and allowed into court. The key difference tends to be the quality and experience of the lawyer making the arguments to the judge.
If you have been charged with or accused of a criminal offense, it is very important that you consult with a Los Angeles Criminal Defense Lawyer as soon as possible. Los Angeles Criminal Defense Attorney Michael Kraut is a former Deputy District Attorney with over 14 years of prosecutorial experience who knows how to effectively defend those who are charged with misdemeanors. Mr. Kraut is highly respected by judges, prosecutors and law enforcement as an excellent trial attorney who fights hard on behalf of his clients.
For more information about Los Angeles criminal proceedings, contact Los Angeles Criminal Defense Attorney Michael Kraut at the Kraut Law Group located at 6255 Sunset Boulevard, Suite 1520, Los Angeles, CA 90028. Mr. Kraut can be reached 24/7 at 888-334-6344 or 323-464-6453.