Navigating Preliminary Hearings in the Age of Proposition 115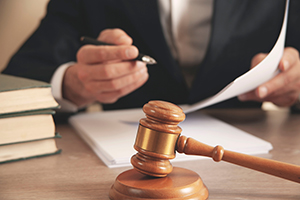 In California's legal system, the preliminary hearing plays a crucial role in the criminal justice process. A preliminary hearing serves as the prosecutor's first opportunity to present their case and convince the magistrate that there is enough probable cause to proceed with a trial. However, when Proposition 115 was passed in 1990, the landscape of preliminary hearings underwent a significant shift that has made it even more critical for a criminal defendant to hire a well versed and highly trained defense attorney.
What Happens at a Preliminary Hearing?
At the preliminary hearing, the prosecution's burden is much lower than it is at trial. The prosecutor at the preliminary hearing is only required to show that there is sufficient probable cause to believe that the crime charged was committed and that there is probable cause showing that the defendant was the person who committed the crime. If the prosecutor convinces the judge of both these requirements, then the defendant will be "held to answer."
Proposition 115
Proposition 115, also known as the "Crime Victims Justice Reform Act," was an initiative passed by voters in California in 1990. The proposition's goal, in part, was to make significant changes to the state's criminal justice system, particularly concerning preliminary hearings. The primary purpose of this proposition was to expedite the pretrial process by reducing the time and resources spent on lengthy preliminary hearings.
Before Proposition 115 was passed, preliminary hearings were governed by the same rules of evidence as a trial. However, following the passage of Proposition 115, three significant changes occurred. First, preliminary hearings are no longer used as a means of discovery for the defense. Second, preliminary hearings allow hearsay if the statements are being introduced through a qualified law enforcement officer. Finally, the defense's presentation of testimony is extremely limited. Unless a defense attorney can establish that the testimony they seek to elicit would be reasonably likely to establish an affirmative defense, negate an element of a crime charged, or impeach the testimony of a prosecution witness, then the defense's request to admit that testimony may be denied.
Effect of Proposition 115 on Defense Attorneys
Supporters of Proposition 115 argue that the changes introduced by Proposition 115 have expedited the criminal justice system, reduced costs, and protected victims' rights. However, critics of Proposition 115 argue that it has undermined due process and obstructed defense counsel's ability to challenge weak cases.
In light of Proposition 115, defense attorneys must adapt their strategies when representing clients during preliminary hearings. It has become even more crucial for defense attorneys to diligently investigate the evidence presented by the prosecution and identify any weaknesses or inconsistencies before the preliminary hearing. Furthermore, defense attorneys must make the most of the limited opportunities for cross-examination to challenge witness credibility and raise doubts about the strength of the prosecution's case.
If you are charged with a felony, it is absolutely critical that you discuss your case with a knowledgeable and aggressive criminal defense attorney as soon as possible. As a former Deputy District Attorney with over 14 years of prosecutorial experience, Los Angeles criminal defense attorney Michael Kraut has an extensive knowledge of the evidence code and is very good at poking holes in the prosecution's case, even before the preliminary hearing has begun. Mr. Kraut has successfully argued for felonies to be reduced to misdemeanors after the preliminary hearing, and has even had cases dismissed entirely following the preliminary hearing.
For more information about the criminal justice process, and to schedule your free consultation, contact Michael Kraut at the Kraut Law Group located at 6255 Sunset Boulevard, Suite 1520, Los Angeles, CA 90028. Mr. Kraut can be reached 24/7 at 888-334-6344 or 323-464-6453.