Los Angeles DUI: Administrative Suspension vs. Court Suspension
Los Angeles DUI Attorney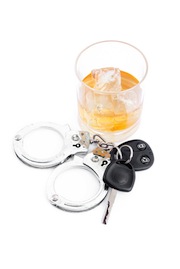 For drivers who have been arrested for driving under the influence, one of the most confusing aspects of the DUI process involves the DMV administrative license suspension and the potential court license suspension. Many people do not realize that a DUI incident will trigger two potential license suspensions that operate independently of each other. Understanding the difference between the two suspensions is critical for anyone facing a DUI charge.
When a driver is arrested on suspension of DUI, the officer will take away his or her license and will provide a notice of a suspension that would go into effect 30 days after the arrest. This is the DMV administrative suspension that operates independently of the court system. This suspension will automatically go into effect unless the driver requests an administrative hearing to challenge the basis for the suspension. A hearing request must be made within ten days of the incident or else the driver will be deemed to have waived his or her right to a hearing.
The administrative hearing would be assigned to a DMV hearing officer who is neither a judge nor an attorney. After considering the evidence, the hearing officer will determine whether to reinstate or set aside the suspension. It should be noted that the administrative suspension will only be imposed on drivers who are found to have a BAC of 0.08 percent or higher or those who refuse chemical testing. Drivers who are discovered to have drugs in their system will generally have the suspension set aside, even though they can still be charged criminally with driving under the influence of drugs.

Even if drivers win the DMV Administrative Per Se hearing and have their license suspensions set aside, they may still face a license suspension as a result of what transpires in court. Whenever a driver is convicted of DUI in court, the conviction will be communicated to the DMV who will automatically issue a driver's license suspension as a result of that conviction. This suspension is only triggered when a driver is convicted of DUI under California Vehicle Code Section 23152 VC or DUI Causing Injury under California Vehicle Code Section 23153 VC. It is not triggered when a driver is convicted of a reduced charge, such as wet reckless under California Vehicle Code Section 23103/23103.5 VC, dry reckless under California Vehicle Code Section 23103 VC or exhibition of speed pursuant to California Vehicle Code Section 23109(c) VC.
First time DUI defendants who did not refuse testing and who are 21 or older are typically eligible for a restricted license after serving a 30 day "hard" suspension during which they cannot drive at all. A driver only has to complete the 30 day hard suspension once. This means that if a driver is convicted in court and has already served his or her 30 day suspension, the court will not require an additional 30 days and the driver would immediately be eligible for a restricted license. In Los Angeles County, drivers convicted of DUI would be able to get a restricted license once they have installed an Ignition Interlock Device in their vehicles. The IID is required because Los Angeles is one of four counties participating in the DMV Ignition Interlock Pilot Program.
If you have been arrested for DUI and want more information about potential administrative and court license suspensions, it is imperative that you consult with a Los Angeles DUI Lawyer as soon as possible. As a former Deputy District Attorney with over 14 years of prosecutorial experience, Attorney Michael Kraut understands the nuances of DUI-related suspensions and can help his clients navigate this confusing area of the law.
For more information about Los Angeles DUI administrative and court suspensions, and to schedule your free consultation, contact Michael Kraut at the Kraut Law Group located at 6255 Sunset Boulevard, Suite 1520, Los Angeles, CA 90028. Mr. Kraut can be reached 24/7 at 888-334-6344 or 323-464-6453.