California Vehicle Code Section 23109(c) VC: Exhibition Of Speed
1. Definition and Elements of the Crime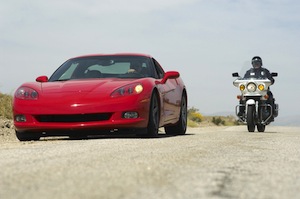 There may be instances where a person charged with a driving under the influence offense in Los Angeles is allowed to plead to a reduced DUI charge that will spare him or her a DUI conviction. One of most favorable reduced DUI charges is exhibition of speed under California Vehicle Code 23109(c) VC, also referred to as "speed ex" and "speed contest."
The exhibition of speed statute does not make any reference to drinking, drugs or driving under the influence, however it is often used by prosecutors as a DUI reduction charge and may be available to certain DUI defendants.
While speed ex is predominantly used in regards to Los Angeles DUI cases, a person can still be prosecuted for exhibition of speed for incidents unrelated to driving under the influence. In these cases, a prosecutor must be able to establish the following elements in order to prove the defendant is guilty of exhibition of speed:
The defendant drove a motor vehicle on a highway AND
While driving, the defendant willfully engaged in an exhibition of speed.
A highway can be any public road or street and a person engages in an exhibition of speed when he or she accelerates or drives at a rate of speed that is dangerous and unsafe in order to show off or make an impression on someone else.
2. Related Offenses
Similar offenses include the following:
Reckless Driving / Dry Reckless - California Vehicle Code Section 23103VC
Wet Reckless - California Vehicle Code Section 23103/23103.5 VC
3. Examples
A man is charged with driving under the influence after being stopped as part of a routine DUI checkpoint where he provided a breath sample that showed his blood alcohol content was right at 0.08 percent. The man has no prior arrests and has a completely clean driving record. During negotiations with the man's attorney, the prosecutor agrees to amend the DUI charges to exhibition of speed pursuant to California Vehicle Code Section 23109(c) VC. As a result, the man would be spared a DUI conviction and many of its collateral consequences.
4. Exhibition of Speed as a Reduced Charge
When determining whether to reduce and amend DUI charges and offer an exhibition of speed, prosecutors may consider a variety of factors. The following list includes some of the factors that a prosecutor may consider when contemplating a DUI charge reduction:
The driver has a blood alcohol content that is at the legal limit (0.08 percent) or very close to it.
The driver has no prior DUI offenses.
The driving conduct was not excessively bad.
There are evidentiary/credibility issues with the prosecutor's case
5. Penalties
Speed ex pursuant to California Vehicle Code Section 23109(c) VC is a non-DUI misdemeanor that cannot be used to enhance future DUI allegations. In addition, a conviction for exhibition of speed will not trigger a mandatory DMV driver's license suspension as a DUI conviction would. Exhibition of speed convictions carry lower fines and a shorter probation period with fewer conditions of probation than typical first-time DUI convictions. On a conviction for exhibition of speed, the defendant could be sentenced to a maximum of 90 days in jail, however jail time is rarely imposed in these cases.
6. Criminal Defense for Los Angeles DUI
If you have been arrested for a Los Angeles DUI offense, it is crucial that you speak with a knowledgeable and experienced Los Angeles DUI Attorney immediately. Los Angeles DUI Attorney Michael Kraut is a former Deputy District Attorney with over 14 years of prosecutorial experience who is adept at handling all aspects of DUI cases. Often, his early intervention and involvement in DUI cases may ultimately be the key factor in having charges dismissed or significantly reduced. Mr. Kraut is highly regarded by judges, prosecutors and law enforcement as a highly skilled advocate who fights hard for his clients charged with DUI offenses.
For more information about exhibition of speed, and to schedule your free consultation, contact Los Angeles DUI Attorney Michael Kraut at the Kraut Law Group located at 6255 Sunset Boulevard, Suite 1520, Los Angeles, CA 90028. Mr. Kraut can be reached 24/7 at 888-334-6344 or 323-464-6453.