DUI and IID Exemptions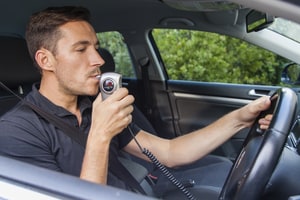 Drivers who are convicted of DUI in Los Angeles County are required to have an ignition interlock device ("IID") installed in their vehicle as part of the DMV's IID Pilot Program. Drivers convicted of DUI in Los Angeles, Sacramento, Alameda and Tulare counties are required to have an IID in their vehicle for at least six months. Drivers often ask about IID exemptions and there are circumstances where drivers can avoid the IID requirement.
How Does the IID Work?
The IID is designed to prevent drivers who have been consuming alcohol from operating a motor vehicle. The IID is installed into a vehicle's steering column and the driver must blow into the device in order to start his or her vehicle. If the device detects alcohol on the driver's breath sample, the vehicle will be unable to start. In addition, while the car is in motion the driver will periodically have to breathe into the IID in order to keep the vehicle moving. The IID records all breath test information and any positive breath tests may be communicated to the DMV or the sentencing court.
Available IID Exemptions
The DMV typically requires IID installation for all drivers in the participating pilot counties who are convicted of DUI. There are certain exemptions that may be available to drivers subject to the IID requirement.
Drivers who no longer own a vehicle may be able to apply for a non-ownership exemption. To qualify for this exemption, the driver would have to certify that he or she does not own a vehicle or have access to a vehicle. The DMV interprets "access" very broadly and drivers whose family members or roommates own vehicles may not qualify for an exemption. The driver may also have to provide proof that he or she sold the vehicle involved in the DUI incident or otherwise no longer has access to this vehicle. If a defendant owns several vehicles, he or she would be required to have an IID installed in all of them. The IID requirement applies to non-operative vehicles as well.
If the defendant is granted a non-ownership exemption to the IID requirement, he or she would not be able to drive any vehicle unless it is equipped with an IID. This exemption does not expire and the defendant would be expected to install an IID if he or she purchases or obtains a vehicle at a later date. Motorcycle riders should be especially careful. It is not possible to install an IID on a motorcycle, however those who are subject to the IID requirement would not be able to ride a motorcycle while the IID requirement is active. Drivers who violate this requirement can be charged with driving on a suspended license in violation of California Vehicle Code Section 14602.2 VC.
Drivers Who Move Out of State
Drivers who are convicted of DUI in one of the pilot counties who subsequently move out of state may also be able to apply for an IID exemption. The driver would be required to submit an affidavit to the DMV regarding the move and also provide proof that he or she no longer resides in California, such as a utility bill or other evidence. If the driver receives an IID exemption, he or she may still be subject to an IID requirement upon moving back to California within 5 years of the conviction.
If you or someone who know have been arrested for DUI and want more information about the IID requirement, it is crucial that you speak with an experienced DUI attorney immediately. As a former Deputy District Attorney with over 14 years of prosecutorial experience, Michael Kraut works diligently on behalf of his clients charged with DUI offenses.
For more information about DUI and IID exemptions, and to schedule your free consultation, contact Michael Kraut at the Kraut Law Group located at 6255 Sunset Boulevard, Suite 1520, Los Angeles, CA 90028. Mr. Kraut can be reached 24/7 at 888-334-6344 or 323-464-6453.