Los Angeles DUI vs. Wet Reckless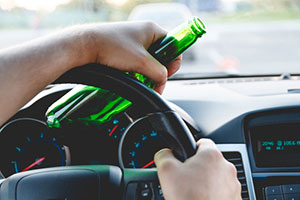 For some defendants who have been charged with DUI, the prosecution may consider resolving the case by allowing the defendant to plead to a reduced DUI charge. This may be the case where there is a problem of proof or the defendant's BAC was relatively low. One of the most common reduced DUI charges is "wet reckless" under California Vehicle Code Section 23103/23103.5 VC. It is important to understand the difference between wet reckless and DUI and what type of consequences each charge may carry.
What is a "Wet Reckless" Charge?
Wet reckless is an unusual charge in that a prosecutor cannot initially charge a defendant with "wet reckless." Instead, a DUI charge can be reduced to wet reckless as part of a plea agreement. Under California Vehicle Code Section 23103 VC, reckless driving is a misdemeanor offense involving unsafe driving conduct. The law provides for a sentencing provision under California Vehicle Code Section 23103.5 VC indicating that there was alcohol involved in the reckless driving offense, hence the term "wet reckless."
Differences Between Wet Reckless and DUI
There are a number of key differences between DUI convictions and convictions for wet reckless. First and foremost, a wet reckless conviction is not a DUI, and may not trigger the same consequences that a DUI conviction would have with employers or licensing agencies. The defendant can honestly state that he or she was convicted of reckless driving and this is the conviction that would appear on his or her criminal background check. This difference can often be critical.
Unlike a DUI conviction which will trigger an automatic driver's license suspension and will require defendants convicted in Los Angeles County to have an Ignition Interlock Device ("IID") installed in their vehicles, a wet reckless conviction will not trigger a driver's license suspension. It is important to remember that the DMV may still issue an administrative driver's license suspension regardless of what happens in court. For a first time DUI offender, the suspension period is four months however the driver would be eligible for a restricted license after a 30 day hard suspension.
Drivers convicted of wet reckless would not need to have an IID installed in their vehicles. However wet reckless convictions will add two points to the defendant's driving record. This may cause drivers to lose their "good driver" discount and may cause insurance rates to go up. In addition, the fines associated with wet reckless are typically lower and the maximum jail is significantly lower. The maximum jail time on a wet reckless conviction is 90 days, while a first time DUI offender can be sentenced to serve up to six months in jail.
Wet Reckless and Enhanceability of Future Offenses
Unlike other reduced DUI charges such as "dry reckless" or exhibition of speed, wet reckless charges are unique in that they count as "prior DUI offenses" if a defendant is charged with a subsequent DUI offense and can be used to enhance penalties. The prosecutor can allege prior DUI convictions as penalty enhancements on new charges that occurred within the previous ten years. For charging purposes, wet reckless convictions under California Vehicle Code Section 23103/23103.5 VC would qualify as "prior convictions" and can lead to mandatory jail sentences and other enhanced penalties.
If you or a loved one have been arrested for DUI and want more information about wet reckless and other reduced DUI charges, it is critical that you meet with an experienced DUI attorney as soon as possible. Michael Kraut is a former Deputy District Attorney with over 14 years of prosecutorial experience who understands what is at stake and works hard to put his clients in the best position possible.
For more information about Los Angeles DUI and wet reckless offenses, and to schedule your free consultation, contact Michael Kraut at the Kraut Criminal & DUI Lawyers located at 6255 Sunset Boulevard, Suite 1520, Los Angeles, CA 90028. Mr. Kraut can be reached 24/7 at 888-334-6344 or 323-464-6453.