DUI Driving Patterns in Los Angeles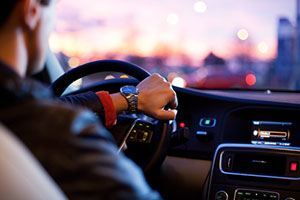 Under the law, a police officer is not allowed to simply pull over a driver based on an unsubstantiated suspicion that the driver is driving under the influence of drugs or alcohol. The Fourth Amendment to the United States Constitution has been interpreted to require that a law enforcement officer can only stop a vehicle where there is reasonable or probable cause that the driver has violated the law.
Impaired Driving Patterns
The reason for the stop is usually a traffic or equipment violation that the officer has observed. However, officers recognize that certain traffic violations, such as failing to stay in one's lane of traffic, are more indicative of impaired driving than others. When such driving conduct is observed, officers are more likely to pull over the vehicle and initiate a DUI investigation, especially when this conduct is observed late at night or on weekends when more DUI offenses tend to occur.
The National Highway Transportation Safety Administration ("NHTSA") has listed the driving conduct that is most closely associated with impaired driving. For each type of driving conduct observed, the NHTSA has calculated the probability of whether the driver is under the influence.
Surprisingly, the driving conduct that the NHTSA study claims is associated with the highest probability of impairment is making wide radius turns. When this is observed, the probability of driver impairment is 65%. The probability of driver impairment is also 65% when vehicles are observed straddling lane dividers or road markers.
Weaving, Swerving and Wide Turns
For drivers who are observed nearly coming into contact with another vehicle or weaving extensively, the likelihood of driver intoxication is 60%. For drivers seen driving off the designated road (such as on a breakdown lane) and for drivers observed swerving, the probability of intoxication is 55%.
When drivers are observed driving under the speed limit by 10 mph or more, have stopped in the middle of traffic without explanation or are seen drifting while driving, the likelihood that the driver is intoxicated is 50%. The odds that a driver is impaired are 45% when that driver tailgates, drives while touching lane markers with his or her tires, brakes erratically or drives in the opposite lane of traffic. Drivers who use their turn signals erratically are 40% more likely to be intoxicated and drivers who turn abruptly or illegally or who stop suddenly are deemed to be 35% more likely to be impaired. Finally, the study found that drivers who suddenly accelerate or decelerate and those who drive without headlights after dark are likely to be intoxicated 30% of the time.
Whenever two of the forms of driving conduct listed above are observed together, the probability of intoxication is 10% higher than the factor with the higher percentage. This would mean that a driver who is observed without headlights after dark (30%) and tailgating (45%) would have a 55% likelihood of impairment according to the NHTSA study.
One factor that is often the basis for DUI stops that has been conspicuously left off this list is speeding. Despite what many law enforcement officers may believe, the NHTSA study shows that speeding is not a factor that is indicative of impaired driving. In fact, many impaired drivers are careful to control their speed in order to avoid being pulled over. Conduct such as swerving or weaving is harder to control while under the influence of drugs or alcohol.
Merely observing the various forms of driving conduct listed above does not provide justification to arrest a driver for DUI. While the officer may stop the vehicle, that officer would be required to form a reasonable suspicion that the driver was, in fact, intoxicated before conducting an arrest. There may be simple explanations other than drug or alcohol intoxication for the driving conduct listed above, including equipment malfunctions or simply being tired.
If the officer lacked reasonable or probable cause, the driver may be able to challenge the vehicle stop by filing a motion to suppress pursuant to California Penal Code Section 1538.5 PC. If successful, the resulting DUI evidence will be suppressed, the prosecution will usually be unable to move forward and the case would be dismissed.
If you have been stopped and cited for a DUI offense, it is crucial that you meet with a Los Angeles DUI Lawyer right away. Attorney Michael Kraut is a former Deputy District Attorney with over 14 years of prosecutorial experience who understands how best to defend those charged with DUI offenses.
For more information about DUI driving patterns, and to schedule your free consultation, contact Michael Kraut at the Kraut Law Group located at 6255 Sunset Boulevard, Suite 1480, Los Angeles, CA 90028. Mr. Kraut can be reached 24/7 at 888-334-6344 or 323-464-6453.
Client Reviews
He gave me the peace of mind that my DUI case was going to be resolved. He fought for what it was needed and helped me by answering all my questions. Mike is not an average attorney. He's a very experienced, honest and straightforward person that is there for you!
I hired Attorney Mike Kraut and I'm am so happy and grateful that I did! I was arrested for a DUI because my BAC level was over the .08 limit. I ended up getting a wet and reckless instead of a DUI. I still have to do some classes and I'm on probation, but I do not have a DUI on my record. If you have a DUI hire Attorney Kraut, he definitely knows his stuff!
There aren't enough positive words to write about Mike, but let me be clear that this is the only lawyer worth hiring in Los Angeles. Mike is professional, caring, and an absolute champion at winning in court.
Mike Kraut is not a typical lawyer. He is a straightforward person with a true heart and a sympathetic ear. He is also smart and connected and he cares about the people who seek out his help. He got my son out of a jam. He did it quickly and painlessly. I recommend Mike Kraut to anyone that needs his services.
Thank you Mike for helping my son.
Michael Kraut is a rock star lawyer. I was really happy and satisfied with the results I received from Michael and his team. A few months back I was being accused of a serious felony. Mike gave me sound legal advice and worked diligently to clear my name. Mike was great at always keeping me updated and returning calls. Great, great lawyer I cant say enough about this man!
How can I express how relieved and pleased I am with Michael's professional abilities to have my Felony brought down to a misdameanor to a possible dismissal with deferment. With his care my life has been turned around and cannot say how helpful he's been not only in my case but life. He, himself has changed how I view criminal lawyers. Thank you so much Michael!