Los Angeles DUI and Ride Sharing Services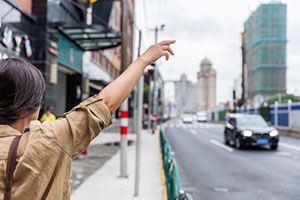 In recent years, the rise of ride sharing apps such as Uber and Lyft have changed the landscape for commercial driving services. California legislators are only now enacting legislation that specifically addresses ride sharing drivers. In 2017, new laws went into effect regarding how DUI laws apply to Uber and Lyft drivers. As many people want to work as an Uber or Lyft driver, it is important to understand what laws apply and what restrictions are now or will soon be in effect.
New BAC Limit for Ride Sharing Drivers
Prior to the adoption of Assembly Bill 2687, most ride sharing drivers operating a non-commercial vehicle were subject to a 0.08 percent BAC limit. In most cases, it would be legal to drive after consuming alcohol, as long as the driver's BAC was below 0.08 percent.
A lower legal limit applies to commercial drivers. Under California Vehicle Code Section 23152(d) VC, it is unlawful to drive a commercial motor vehicle, such as a truck, with a BAC of 0.04 percent or higher. A commercial vehicle is defined as any vehicle requiring a Class A or Class B license.
Under the previous DUI law, Uber and Lyft drivers, who were allowed to drive on their non-commercial Class C license and operate their personal vehicle, would only be subject to the 0.08 legal limit. However, the California legislature has amended the DUI statute. California Vehicle Code Section 23152(f) VC now reads "Commencing July 1, 2018, it shall be unlawful for a person who has 0.04 percent or more, by weight, of alcohol in his or her blood to drive a motor vehicle when a passenger for hire is a passenger in the vehicle at the time of the offense." This means that an Uber or Lyft driver who currently has a passenger for hire would no longer be subject to a 0.08 percent BAC limit, but instead would have a 0.04 percent limit and could be charged with a DUI offense for having a BAC of 0.04 percent or higher.
It is important to remember that this higher BAC only applies when the Uber or Lyft driver has a passenger for hire in his or her vehicle. Otherwise the driver would be subject to the regular 0.08 percent BAC limit. Legislators want to ensure that ride sharing drivers are driving safely and change in the law reflects this.
Background Check for DUI Convictions Are Now Required
In addition, California legislators have enacted a new law that requires backgrounds checks for potential ride sharing drivers and prevents them from driving if convicted of certain offenses. Under Assembly Bill 1289, ride sharing companies would have to conduct criminal background checks on all applicants and would face steep fines and penalties if a driver is found to have committed a misdemeanor assault or battery, a domestic violence offense, a DUI offense or other specific crimes within the previous seven years.
This means that any person convicted of a DUI would be not be allowed to drive for Uber or Lyft for seven years. This is expected to affect many drivers who have old DUI convictions and who currently drive for Uber and Lyft as well as drivers who have been arrested for a new offense and rely on ride sharing for their income.
If you are a Los Angeles area Uber or Lyft driver who has been arrested for DUI, it is critical you review you case with a knowledgeable DUI attorney right away. Michael Kraut is a former Deputy District Attorney with over 14 years of prosecutorial experience who understands the severe consequences that a DUI can trigger and works hard to ensure his clients receive the best representation possible.
For more information about Los Angeles DUI and ride sharing services, and to schedule your free consultation, contact Michael Kraut at the Kraut Law Group located at 6255 Sunset Boulevard, Suite 1520, Los Angeles, CA 90028. Mr. Kraut can be reached 24/7 at 888-334-6344 or 323-464-6453.