Los Angeles DUI and Double Jeopardy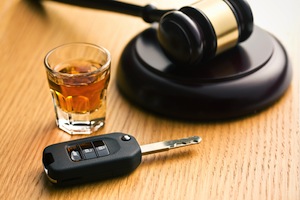 Many drivers who are charged with driving under the influence in the Los Angeles area may be surprised to find that they are ultimately charged with two different offenses, driving under the influence in violation of California Vehicle Code Section 23152(a) VC and driving with a blood alcohol content of 0.08 percent or higher in violation of California Vehicle Code Section 23152(b) VC. These drivers often are curious why they have been charged with two offenses for the same incident and want to know whether or not this violates the United States Constitution's prohibition against double jeopardy.
DUI and High BAC Charges
When a person is arrested for driving under the influence and is found to have a blood alcohol level of 0.08 percent or above, prosecutors typically will charge both counts and pursue two different theories of criminal liability. Under the California Vehicle Code Section 23152(b) VC count, the prosecution would only have to prove that the defendant was operating a motor vehicle and had a BAC in excess of 0.08 percent at the time he or she was driving. Under California Vehicle Code Section 23152(a) VC, the prosecution could still prove a case where the defendant was driving under the influence of alcohol. There would be no need to prove a blood alcohol content but the prosecution would have to establish that the driver was under the influence. In DUI refusal cases, the defendant is typically only charged with a single count of driving under the influence under California Vehicle Code Section 23152(a) VC in addition to the refusal allegation.
Defendants Cannot be Punished for Both DUI Counts
California appellate courts have ruled that while defendants cannot be punished for both DUI counts for a single incident, they can still be convicted of both counts. A judge can only impose sentence on one of the two DUI counts. In this way, the practice of charging multiple DUI counts on a single event does not violate the Fifth Amendment to the United States Constitution. If a defendant is ever charged with a future DUI offense, only one of the DUI counts can be used as a prior conviction for enhancement purposes.
Questions about double jeopardy also come up often when dealing with DMV administrative actions. Typically, a person who is arrested for a DUI offense will face two separate license suspensions; an administrative suspension that is triggered automatically once the driver is arrested for DUI and a court suspension that is triggered when a defendant is convicted under any subdivision of California Vehicle Code Section 23152 VC.
When a driver is arrested for DUI, the arresting officer will provide a notice of an impending license suspension that would go into effect after 30 days. For first time DUI offenders who are 21 or over and who did not refuse chemical testing, the suspension is four months long. If drivers want to contest the suspension, they must file a timely request for an administrative hearing with the Department of Motor Vehicles. The hearing is conducted by a Hearing Officer from the DMV who is neither a judge nor an attorney and who ultimately decides whether or not the suspension is warranted.
In addition, any defendant convicted under California Vehicle Code Section 23152 VC would be automatically subject to a suspension of his or her driving privileges. The fact that a defendant faces two license suspensions for the same driving event is not considered double jeopardy because the administrative suspension is not considered a "punishment" or "penalty" under the law but instead is considered to be an administrative remedial action. The court suspension is considered a penalty that occurs as a result of a DUI conviction. Even though there are two suspensions, drivers will usually get credit on the court conviction for suspension time served during the administrative suspension. Specifically a defendant convicted in court would not have to serve an additional 30 day "hard" suspension before becoming eligible for a restricted license.
If you have been charged with DUI, it is important that you consult with a Los Angeles DUI Attorney right away. Attorney Michael Kraut is a former Deputy District Attorney with over 14 years of prosecutorial experience who understands how to effectively fight DUI charges.
For more information about DUI and double jeopardy, and to schedule your free consultation, contact Michael Kraut at the Kraut Law Group located at 6255 Sunset Boulevard, Suite 1520, Los Angeles, CA 90028. Mr. Kraut can be reached 24/7 at 888-334-6344 or 323-464-6453.